Table of Contents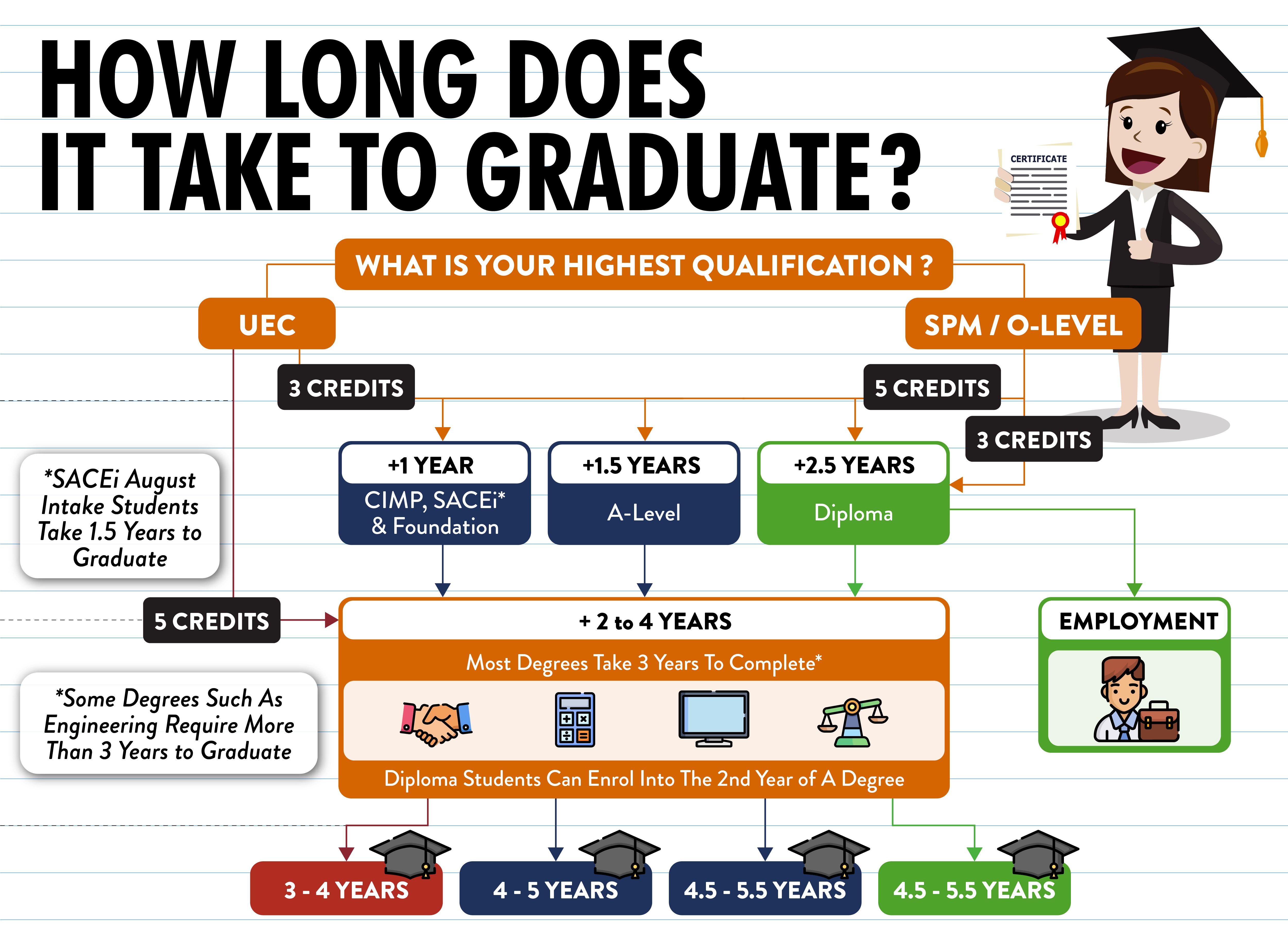 Education Pathway After SPM: You may be aware of the many higher education pathways after SPM to further your studies, but which is the right path?
After secondary school, students generally have a few options.
Students may enrol in a pre-university programme such as a University Foundation or an A-level to qualify for a degree.
Alternatively, students can choose a diploma which allows them to enter the workforce before continuing their degree.
This article explains what pre-university, diploma and degree programmes are, their unique advantages, and how to plan your higher education.
What is a Pre-University Programme?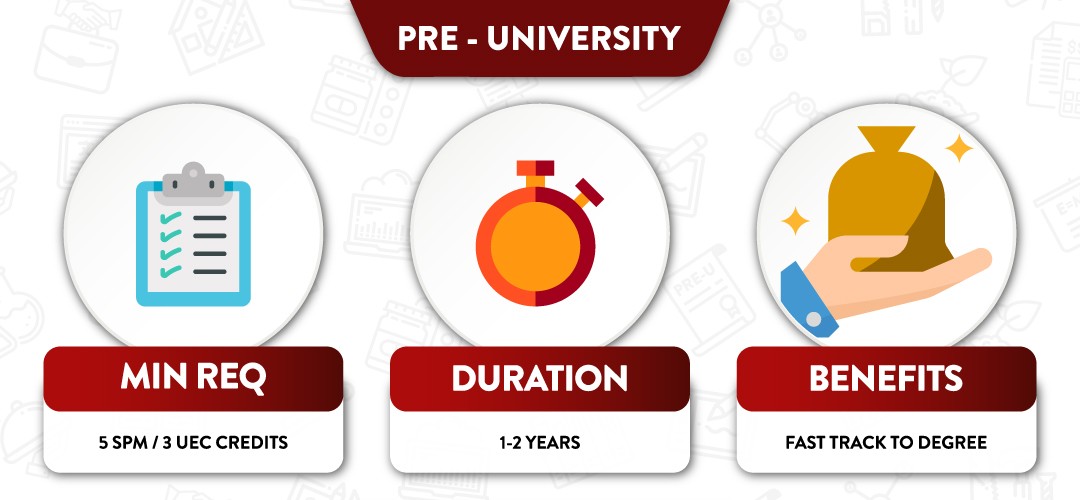 Pre-university programmes are 1-2 year programmes for students who just graduated from high school. Different programmes cater to individuals' higher education needs.
Education Pathway After SPM: University Foundation
University Foundation programmes concentrate on subjects that are relevant to an area of study such as Science, Arts or Business.
The programme provides students time to decide on a desired specialisation for their degree and cost less than International pre-university programmes.
Education Pathway After SPM: International Pre-University
A-Level, South Australian Certificate of Education (SACE International) and Canadian Pre-University (CPU) are examples of popular International Pre-university programmes.
Students can choose a combination of subjects, even if some of their chosen subjects are not strictly related to their area of study.
For example, an A-level student can choose to study economics with biology, chemistry and maths as a subject combination before pursuing a pharmacy degree.
International Pre-university programmes are recognised in many countries and grants students access to top universities around the world.
Education Pathway After SPM: Minimum Requirements
5 SPM Credits are required to enter a pre-university programme.
UEC results are equal to a pre-university qualification. You can enrol enrol to a diploma or pre-university with 3 UEC credits.
What is Uni Enrol?
Uni Enrol offers you a pathway to an affordable higher education by matching you with courses, scholarships and bursaries through our online platform. Send us your results to find out how to save on your higher education.
What Are the Advantages Of a Pre-University Programme?
Direct path to a degree. Students complete their pre-university within 1 to 1.5 years and proceed to a degree sooner which is a higher qualification than a diploma.
Explore your interests. Pre-university students have the freedom to discover their interests because they are not required to specialise yet.
International recognition. A-level, SACE International and CIMP are programmes which allow students to study for their degree overseas in various countries, including the United Kingdom. Australia, United States, New Zealand and Canada.
Education Pathway After SPM: What is a Diploma?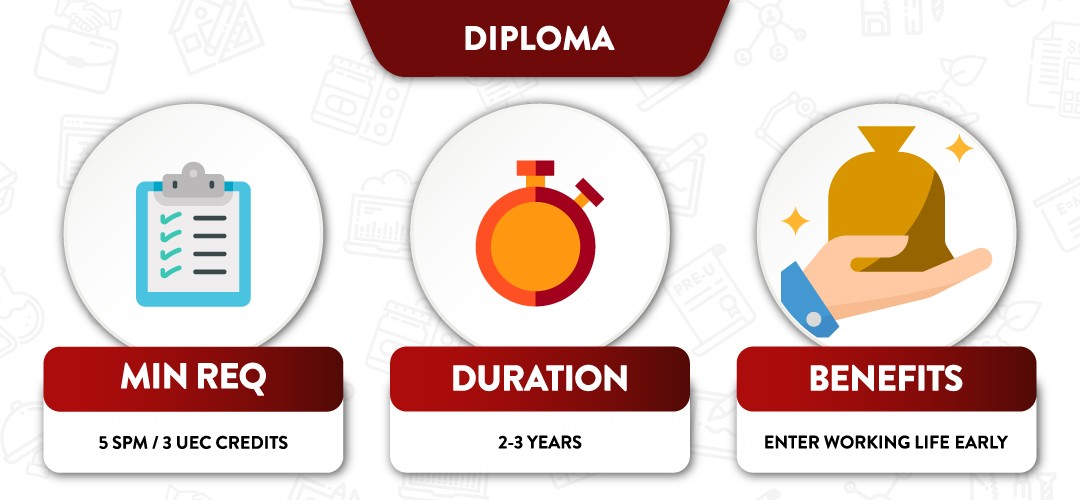 A diploma is a 2-3 year programme that teaches skills and knowledge relevant to a specific industry to prepare students for the working world.
Diploma programmes focus on developing practical skills compared with a degree programme.
It is more suited for students looking to enter skill-based industries such as fashion design, culinary arts and mass communication.
For example, a culinary arts diploma student would learn cuisine techniques and beverage service, which are practical skills that chefs utilise in their line of work.
What Are the Advantages Of a Diploma?
It has lower minimum requirements. A diploma only requires 3 SPM or UEC Credits instead of 5 Credits required to enter a pre-university programme.
Diploma students can join the workforce after 2 years of studies. However, entry-level pay for diploma holders will be lower than their degree counterparts. If they wish to study for a degree they will enter the programme at Year 2.
It's cost effective. For example, a communication diploma costs an average of RM40,000.
What Is a Degree?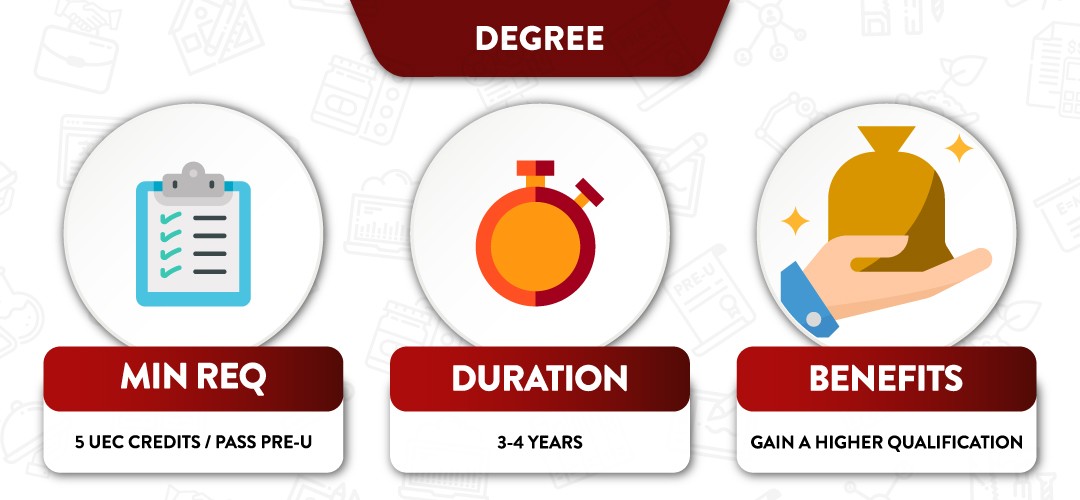 A Bachelor's degree is a 3-4 year programme that prepares students for entry-level jobs and teaches in-depth knowledge about a field of study.
Students will focus on studying a specific subject during their 3-4 years of study, this is called a major.
For example, a business degree student would choose either accounting, management or economics to specialise in as their major.
A Bachelor's degree is a higher qualification compared with a diploma. Students must complete either a pre-university or a diploma programme before they can study for a degree.
Minimum Requirements
The minimum entry requirement for degree programme is a pass in all your pre-university subjects. However, universities may have additional requirements.
If you have 5 UEC credits you can enrol for a degree.
UEC students aiming for a degree must also obtain a B in SPM english, or a band 3 in MUET to enrol into a degree programme.
What Are the Advantages of a Degree?
Bachelor's degree holders have access to higher level entry positions, especially in science related fields such as medicine and engineering.
Study subjects you're passionate about in greater depth. A degree allows you to thoroughly understand your subject matter for over 3 years.
Contact us to find out about exclusive deals up to RM2,000 when you apply for your pre-university, diploma or degree through Uni Enrol.
What Should You Consider Before Picking A Diploma Or Degree?
Choosing a diploma or degree is a major decision that impacts your finances and time. Here are some tips to help you plan.
Consider your grades. Enrolling for a pre-university or diploma programme will depend on your SPM, O-level or UEC results meeting specific minimum requirements.
For example, a students with 3 UEC Credits would need to enrol into a pre-university or diploma programme, instead of a degree.
Take into account your finances. Ensure you can afford your degree or diploma by budgeting your education cost and utilising scholarships or deals.
Know your personal interests and preferences. Before choosing a programme you should consider if it matches your passion and personal strengths.
For example, a student who is good at chemistry and enjoys health and lifestyle would excel in a degree in food science or nutrition.
Connect with our counsellors to receive a free consultation session to plan for your future pre-university, diploma or degree programme.