The gaming industry is one of the fastest growing in the world with mobile gaming and esports increasing in popularity in Asia.
Malaysia has successfully capitalised on this trend, ranking 21 worldwide for game revenue amounting to RM2.8 billion.  
Malaysian game studios are also increasingly collaborating with international game studios on games such as Final Fantasy XV, Mortal Kombat X and Uncharted 4.
This article explains how you can kickstart an education pathway in game development to join the industry.
What is Game Development?
Game development is the process of designing and producing games for a variety of platforms including mobile devices, PC or gaming consoles 
Check out this video to learn about how engaging and entertaining games are developed!
Why Study Game Development?
The gaming industry is profitable in Malaysia with increasing career opportunities for graduates.  
According to the Malaysian Digital Economy Corporation, Malaysia has made RM687 million from exporting games in 2018 and the industry is expected to grow rapidly in the upcoming years. 
Game development can also be a fulfilling career if you have the following traits: 
High aptitude for

maths and programming

.

Able to think

critically and logically

to understand how the games are designed.

Tech savvy

and enjoy understanding how different gaming hardwares work. 

Passionate about storytelling

and presenting ideas.

Comfortable with

adapting quickly to changes

and learning new information.
Here's why game development is worth joining if you're passionate about it, even if it's not a traditional career path!
Fields in Game Development
Game designer and game developer are popular specialisations in the field of game development. 
Game designers create the visual elements of a game such as the look and feel of the characters and environment. 
They also control the overall experience of players through the game's storyline, voice acting for characters or cinematic cutscenes. 
Game developers write code to bring the game to life, allowing game characters to move, fight and interact with each other. 
They make sure the game runs smoothly with no glitches in it.
What Does Your Pathway Look Like?
The standard duration for a game development degree course is 3 years.
Your total years in higher education may vary depending on your chosen Foundation or Pre-University course.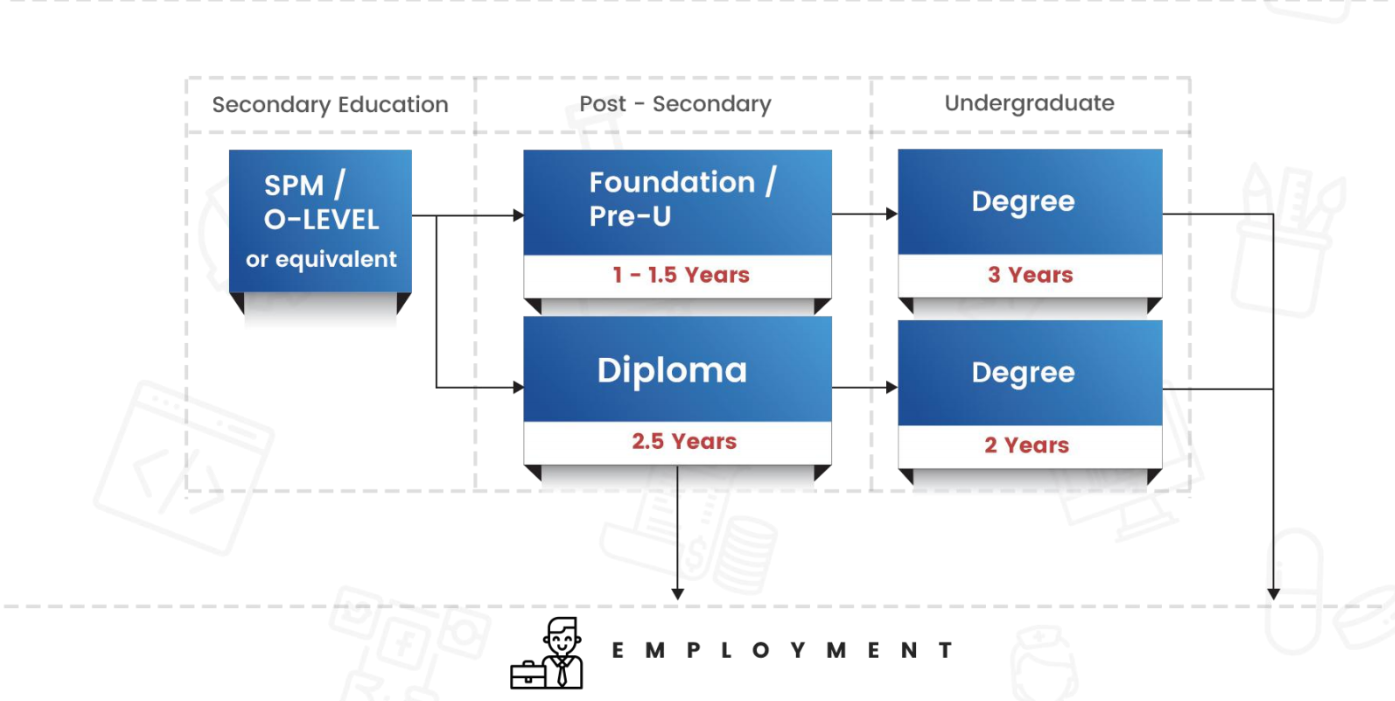 Minimum Requirements for a Game Development Degree
Scoring a C in SPM for Mathematics and Additional Mathematics are pre-requisites for most game development degrees that teach programming. 
Here are general degree entry requirements for your reference: 
STPM: 2Cs

Foundation: 2.0 CGPA

A-Level: 2Es 

Canadian Pre-U: Average of 55%-60%

in 6 subjects

AUSMAT/SACEi: ATAR of 55-60
Entry requirements may vary across different universities.
Use Pathway Match to check your eligibility for your chosen university and course.
Which Private Universities Offers Game Development Courses?
UCSI University & Colleges
Available course:
Estimated tuition fees per year: 
UOW Malaysia KDU University College
Available course:
Estimated tuition fees per year: