Think hospitality and immediately images of posh hotels and resorts come to mind.
However, the industry is more than that.
Often working behind the scenes, hospitality plays a big role even to the most minute detail.
If your passion lies in strategising the best experience and bringing leisure and recreation to the next level, then a career in hospitality is for you.
What is Uni Enrol?
Uni Enrol is an online platform that helps you save on your higher education. Use our Pathway Match tool to get matched instantly with scholarships, exclusive deals and courses.
What is Hospitality?
Quite simply, the study of hospitality aims to create unforgettable experiences for guests.
Hospitality extends to three major areas namely hotel management, tourism management and event management which will be further explained below.
Why Consider Hospitality?

There is always a shortage of trained and qualified workforce in this field due to its continuous growth and sometimes demanding commitment required.
Start your own business on small or large scale.
After accumulating valuable experience, many start out their own tour services or even open their own boutique hotels.
Your experience and obsession in bringing the best service to guests can bring you to places all around the world, as the skills you acquire is globally appreciated.
Hospitality can be a fulfilling career especially when you fit into these traits required to be successful:
Strong passion for creating memorable experiences for others.
Love planning and executing fun and exciting itineraries.
Able to work with different types of shifts (day and night).
Able to multitask and adapt to emergency situations calmly.
Strong communication skills while maintaining cheerful personality.
Patience when dealing with clients/tourists/guests.
Fields of Hospitality
The study of hospitality generally covers three main areas:
Hotel Management – focuses on learning the management of the organisation, accommodation, food and beverage services, human resource and even profitability of the hotel or chain of hotels.
Tourism Management – focuses on planning and creating leisure and recreational experiences to suit the needs of travellers.
Event Management – focuses on creating and developing small to large scale events such as festivals, conferences, weddings, parties and concerts.
Here are two videos that capture the day-to-day roles and operations of managing a hotel:
A Day in the Hotel Industry
Assistant Hotel Manager: What I do?
What Does Your Pathway Look Like?
Below are the typical pathways to getting your hospitality degree: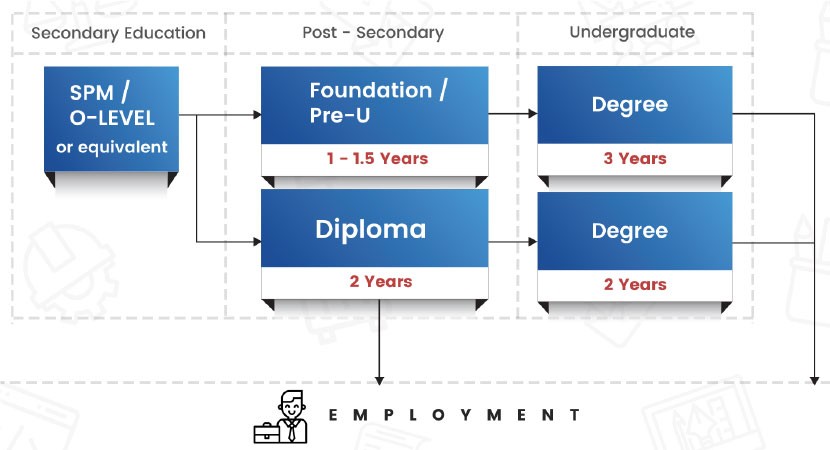 Minimum Requirements for a Degree in Hospitality
To enrol in a degree programme in a Malaysian university, you will generally need:
| | |
| --- | --- |
| Qualification | Minimum Requirement |
| STPM | 2C |
| A-Level | 2E |
| UEC | 5B |
| SACE/AUSMAT | ATAR of 55 |
| Foundation | CGPA 2.0 |
| Diploma | CGPA 2.0 |
Do note different universities have varying requirements.
Which Private Universities Offer Hospitality Courses?
1. Taylor's University
Available courses:
Estimated tuition fees per year:
RM24,000 (Foundation)
RM33,000 (Degree)
RM24,000 (Diploma)
You can read about Taylor's courses here.
2. Berjaya University College of Hospitality
Available courses:
Estimated tuition fees per year:
RM17,000 (Foundation)
RM21,000 (Degree)
3. INTI International University & Colleges

Available courses:
Estimated tuition fees per year:
RM18,000 (Foundation)
RM24,000 (Degree)
RM21,000 (Diploma)
4. KDU Penang University College
Available courses:
Estimated tuition fees per year:
RM17,000 (Foundation)
RM27,000 (Degree)
RM18,000 (Diploma)
5. SENTRAL College Penang
Available course:
Estimated tuition fees per year:
You can read about SENTRAL's Tourism Management course here.
Use our Pathway Match tool to lower the cost of your higher education by checking for scholarships and deals that you're eligible for.