The presence of lawyers is ubiquitous.
As one of the oldest academic fields in the world, the study of law can be applied in almost any industry.
This wide range of opportunities suits law graduates with good communication skills and high adaptability.
If you're looking to champion a noble cause and make a difference, then the study of law may be the right choice for you.
What is Uni Enrol?
Uni Enrol is an online platform that makes higher education more affordable for you. Use our Pathway Match tool to get matched with scholarships, exclusive deals and courses.
Why Study Law?
The law is a set of rules that maintains justice and social order.
It protects us from harm and ensures that our rights are protected.
There is a need for a qualified lawyer in almost every industry.
This means that law graduates have the advantage to explore different industries and pathways.
Law graduates may opt to work for the government or private sector.
After gaining enough experience, lawyers may start their own law firms.
A career in law can bring you places, especially if you possess these traits:
Able to adapt and think outside the box
Compassionate and empathetic towards struggles your clients may have
Passionate to make changes and see it through
Able to stand firm on your beliefs but also willing to open up to new ideas
Want to know more? In this video, lawyers answer the most searched questions about being a lawyer:
The Different Areas of Law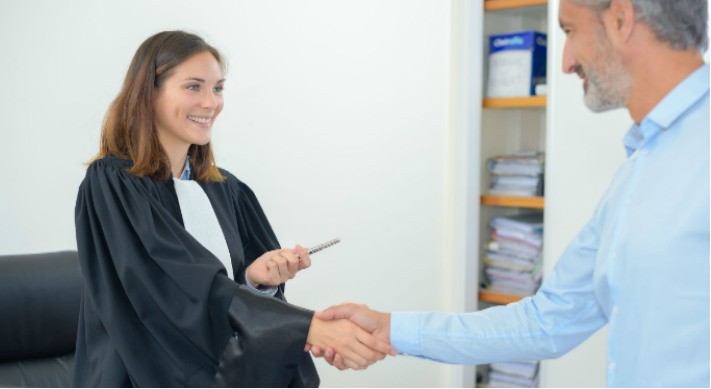 Law is generally divided into two main areas – criminal law and civil law.
Criminal law

deals with actions considered harmful to society, such as murder, robbery and rape.

Civil law deals with conflict between individuals and organisations. The areas of civil law are extensive and a graduate may specialise in shipping law, corporate law, sports law or property law.
Law students study compulsory modules such as criminal law, public law, contract law, common law.
Additionally, they may also pursue family law, medical law, or human rights law.
However, you don't necessarily have to decide between criminal or civil law while in university.
You only choose when you begin your career.
Do note that this article will not include Syariah law in Malaysia as the study is a course on its own.
What Does Your Pathway Look Like?
The duration of a law degree is 3 years.
To practise in Malaysia, you will need to pass the Certificate of Legal Practice (CLP) exam after your law degree, which takes about 9 months.
Thereafter, you will enter your chambering period where you are attached to a law firm for at least 9 months.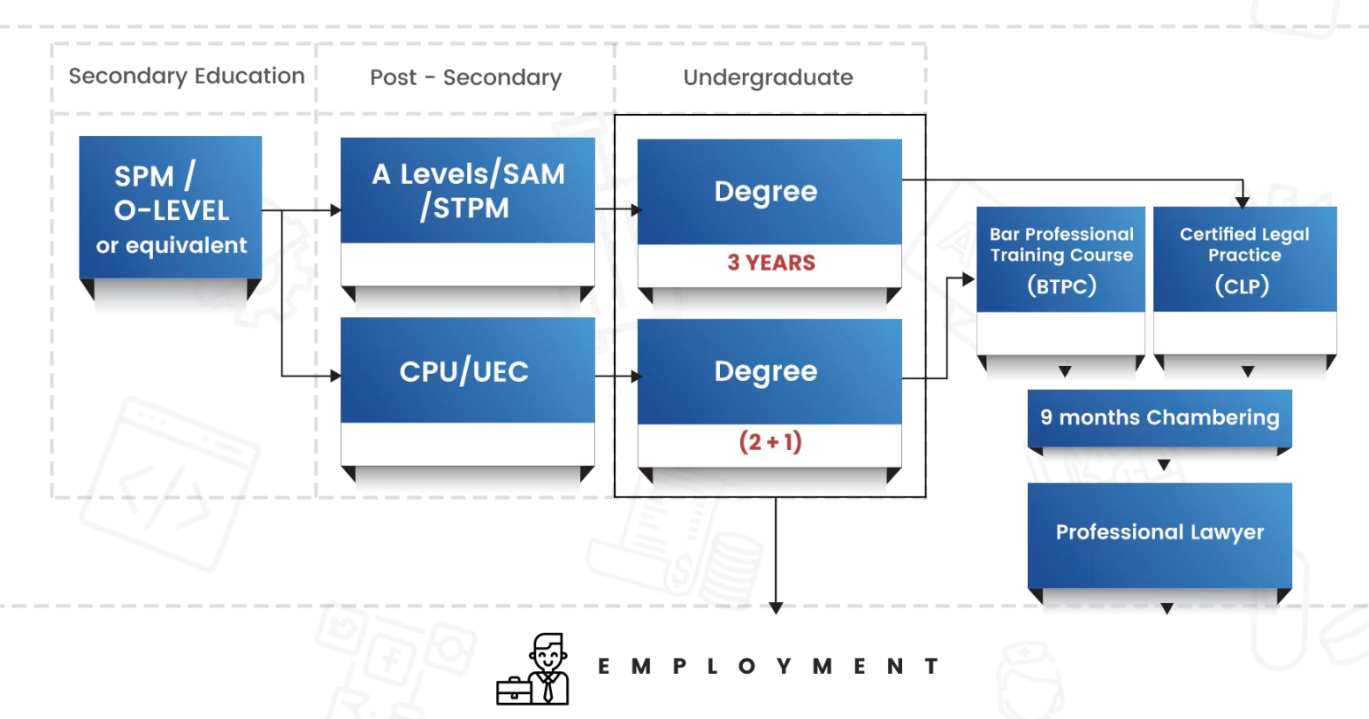 Students who wish to specialise may pursue a Master of Laws (LLM) in their field of choice.
A specialist degree could take up to four years to complete i.e. law degree (3 years) + LLM (1 year) before continuing with your CLP.
Minimum Requirements for a Law Degree
To enrol in a law degree in Malaysia, you will generally need at least:
SPM:

C in BM (this will be taken into consideration when you apply for your degree)

A-Level

: Minimum 2Es

STPM

: Minimum 2Cs
or any recognised pre-university course such as South Australian Certificate of Education International (SACEi) and Australian Matriculation (AUSMAT).
Minimum requirements may differ from university to university. Use Pathway Match to check your eligibility for law universities.
Which Private Universities Offer Law Courses?
1. Brickfields Asia College
Available course:
Estimated tuition fees per year:
Note: Dual award (3+0 and 4+0) programmes are available with University of London International Programmes, UK, and Northumbria University (Open Learning), UK.
2. Taylor's University
Available course:
Estimated tuition fees per year:
Read about Taylor's Law course here.
3. HELP University College
Available course:
Estimated tuition fees per year:
4. Multimedia University (MMU)
Available course:
Estimated tuition fees per year:
Keep These in Mind
Pass Your BM in SPM
To practise in Malaysia, you will be required to score at least a credit in the SPM's Bahasa Malaysia, or a credit in Malay as a Second Language in IGCSE.
Otherwise, you will need to sit for the Bahasa Malaysia Qualifying Examination to qualify as a lawyer in Malaysia.
Enrol in Recognised Foundation Programmes Only
Make sure any foundation programme you are planning to take is recognised by the Legal Profession Qualifying Board (LPQB).
For programmes that are not recognised, you will need to complete your bar exam (which is CLP equivalent) in the UK to be recognised by the Bar Council in Malaysia to practice law in a judicial setting.
Special Message for Students from Sabah and Sarawak
Law graduates hailing from Sabah and Sarawak have the flexibility of practicing in both West and East Malaysia.
However, there are hurdles for a lawyer from peninsula to work in Sabah or Sarawak.
Use our Pathway Match tool to lower the cost of your higher education by matching with scholarships and exclusive deals.