Want to study law in Malaysia but not sure if you can afford it?
It can be confusing to go through all the different tuition fees out there, some law courses also have high tuition fees which can be intimidating.
Let us give you a clear breakdown of the cost of studying law. We show the full cost to study law in Malaysia, from your SPM until you graduate to become a lawyer.
We also show you the cost pre-university and degree courses in different Malaysian regions and suggest ways to make your law education more affordable. 
How To Be a Professional Lawyer?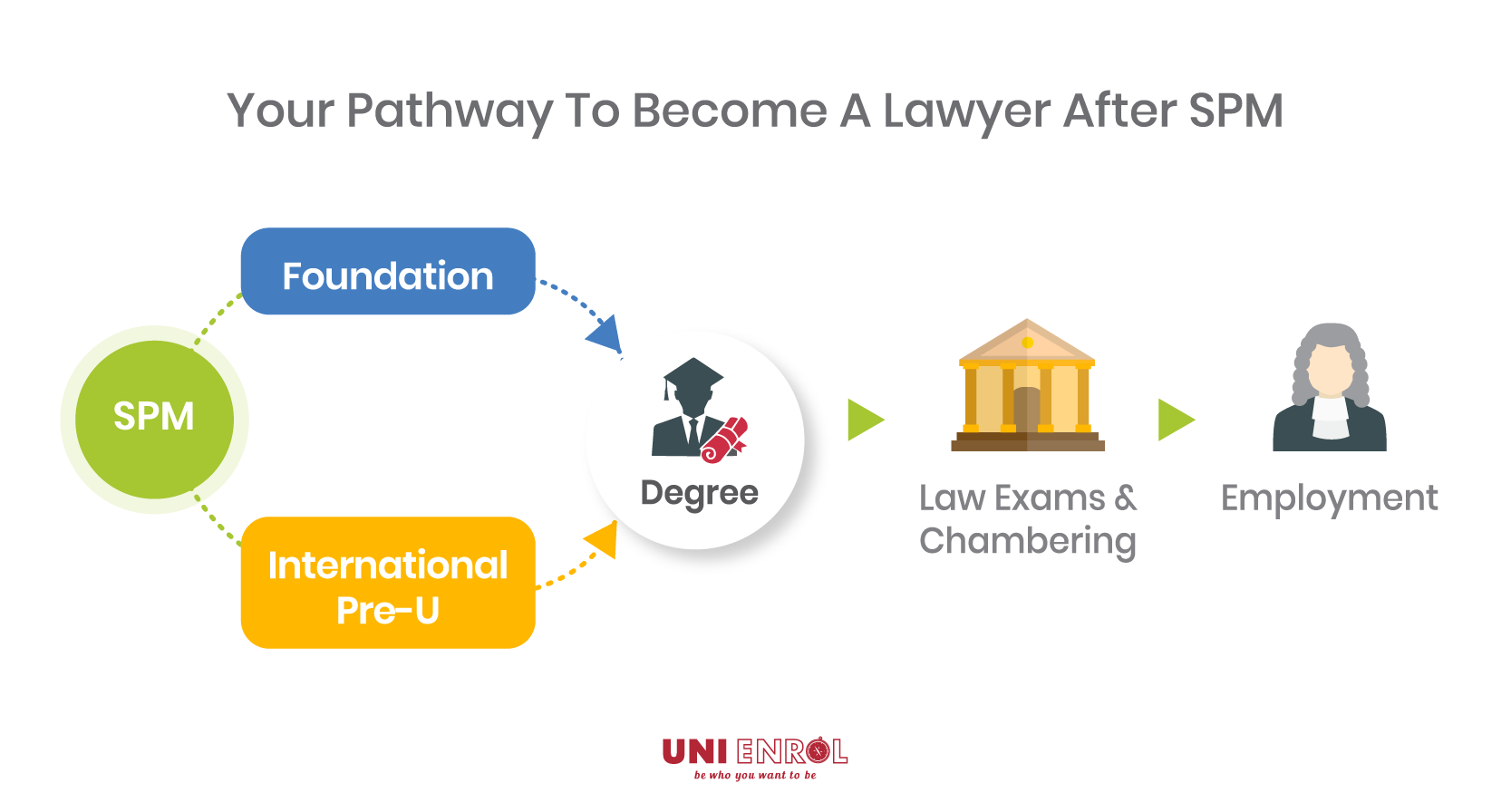 There are three stages to become a qualified lawyer in Malaysia after your SPM. 
To understand the full cost of your law education, you must first consider all three stages.
We explain the specific fees for each stage in the next part of the article.   
You begin by choosing a pre-university course after your SPM.
Examples of pre-university courses include Foundation or International Pre-University courses like A-Level or SACE International.  
You will then proceed to a law degree which takes 3 years to complete. 
The third stage of your education involves taking bar exams such as the Certificate in Legal Practice (CLP) or the Bar Professional Training Course. 
Note: 
After completing their bar exams, law students must undergo chambering to become a professional lawyer.
During chambering, students will work at a law firm under a professional lawyer for 9 months who will assess them.
Read our article to find out more about how you can become a lawyer in Malaysia.
What is the Cost to Study Law in Malaysia?
Foundation courses are one of the more affordable options offered at private universities and cost between RM10,000 and RM26,000.  
These courses allow you to focus on studying subjects relevant to your future degree, making them ideal if you're certain about studying law.  
International Pre-University courses are widely recognised by universities both locally and internationally.
These courses cost between RM13,000 and RM43,000 because they give you more flexibility to choose where you want to study. 
You can expect a 3-year law degree to cost between RM42,000 and RM115,000.
Law degrees focus on preparing you with skills and knowledge to work in related industries. 
The cost of your law education will vary depending on your university's location.
You can find out the cost of studying law in your region below.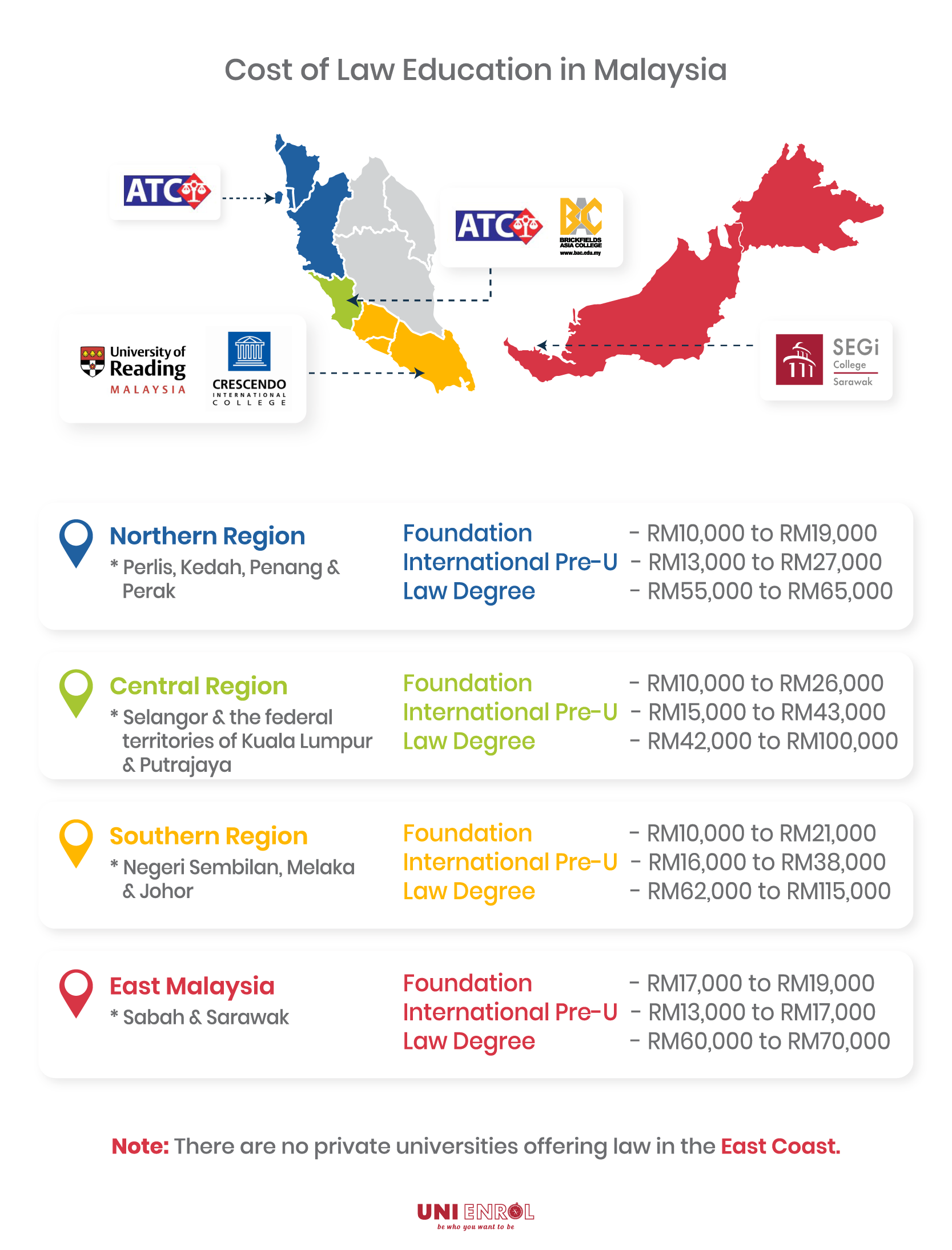 After you graduate from a law degree, you will also need to pay for bar exams such as the CLP to become a practising lawyer in Malaysia.
The CLP course and exam cost between RM12,000 and RM13,000. 
The total cost of your law education is the combined cost of your pre-university, degree and CLP exam.  
For example, a Central region student studies an A-Level course for RM17,000 at Advance Tertiary College (ATC).
He chooses to study his law degree at ATC which costs RM60,000 and takes his CLP exam there for RM12,000. 
The total cost of his law education is RM89,000.
How Can My Law Education Be More Affordable?
There are many options that can make your higher education more affordable.
They include scholarships and financial aid that award you based on your grades, household income or talent. 
Here are some examples of how scholarships or financial aid can help you. 
A student chooses a Foundation in law course at Multimedia University (MMU) which costs RM21,500.
He qualifies for a PTPTN loan of RM5,100 because his family income is below RM8,000.
He also can apply for a PTPTN loan of RM10,200 for his 4-year law degree at MMU, which costs RM81,000. 
The cost of his law education will amount to RM87,200.
He would not need to pay for the CLP exam because the 4-year course is exempted by the Legal Profession Qualifying Board.
A student saves RM4,000 on his SACE International course at Taylor's University by securing a scholarship with 6As in his SPM.
This lowers the cost of SACE International course to RM24,000 from RM28,000. 
He does well in his pre-university course, allowing him to secure a scholarship worth RM45,000 with an ATAR score of 90.
This lowers the cost of his law degree at Taylor's to RM60,000 from RM105,000.
He pays RM96,000 for his law education.
Find More Options to Save!
Use our Pathway Match tool to save more on your higher education by matching with scholarships and exclusive savings from over 80 private universities in Malaysia.
We also offer a range of exclusive bursaries when you apply to these universities through us.