You've decided that you want to further your studies.
So how do you fund your education?
Many students rely on their parents for help, and some families choose to apply for PTPTN to lessen the financial burden from higher education.
Did you know that PTPTN loans are beneficial to you in the long term?
Loans can work in your favour when you use it wisely. 
PTPTN makes it easy for students to apply and even pay online, not to mention the low monthly repayment amount.
Before you learn about how to apply for PTPTN, here are some misconceptions about PTPTN that are common among students, and tips on how to manage your loan and save on interest charges.
5 Common Misconceptions About PTPTN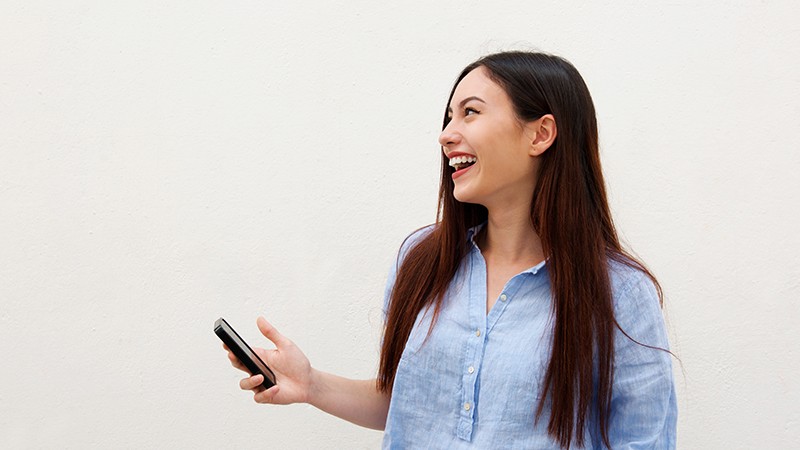 I can't afford higher education, so I shouldn't apply for a loan.
When you apply for PTPTN, it can help you afford higher education and improve your financial situation in the long run. 
By taking a PTPTN loan for your studies, you will be able to acquire the latest skills, knowledge, and qualifications needed for an entry-level job with higher salary after graduation.
I shouldn't borrow money from PTPTN because it will burden my family. 
PTPTN loans have an interest rate of 1%, or ujrah, a Shariah-compliant service fee. 
Your loan repayment amount is determined by PTPTN, along with the duration of the repayment period.
You are given a grace period of 12 months after you've graduated before the first repayment amount is due.
You can't negotiate with PTPTN for more time to pay them back. 
If you're struggling to repay PTPTN loans, it's perfectly acceptable to negotiate with PTPTN on your repayment duration, as long as you pay it back.
PTPTN recommends that students who owe PTPTN less than RM10,000 complete their repayment within 5 years. 
Students owing RM10,000 to RM22,000 should repay in 10 years and those owing RM22,000 to RM50,000 should repay in 15 years. 
Students who owe more than RM50,000 can pay within 20 years.  
Caution:
PTPTN loans need to be repaid and there are multiple channels for you to do so, even online.
Students who don't repay their loans are banned from leaving the country, blacklisted by the Central Credit Rating System and could face legal action. 
This means you won't be able to travel overseas for work or holidays. 
Banks will also be less likely to lend you money in the future for your first house or a car. 
It doesn't matter how soon I repay my PTPTN loan.
While there's nothing wrong with repaying your loan slowly, the faster you repay your PTPTN loan the less interest you're charged.
For example, taking 10 years to pay a PTPTN loan of RM14,000 means you'll be charged RM1,400 in interest by PTPTN. 
However, if you take 5 years, you will only be charged RM700 which is half the interest amount!
It is complicated and requires a lot of documents.
Some students choose not to apply because they feel that a PTPTN application requires a lot of documents.
That is true to some degree, since PTPTN needs to verify your household financial status before deciding whether to offer a loan to you.
Having the documents ready before you apply for PTPTN means the chances of you getting rejected due to incomplete information is slim.
How To Save On PTPTN Interest Charges
PTPTN loans charge a 1% flat interest rate. 
This means you are charged 1% of your original loan amount. 
This amount is multiplied every year until the loan is completely paid off.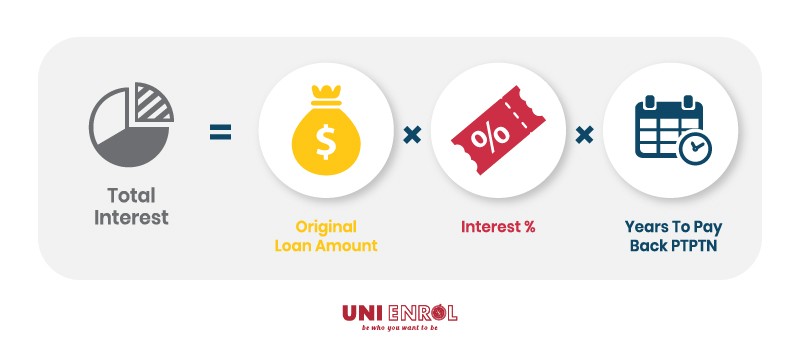 The example below shows a student who borrowed RM12,000 from PTPTN.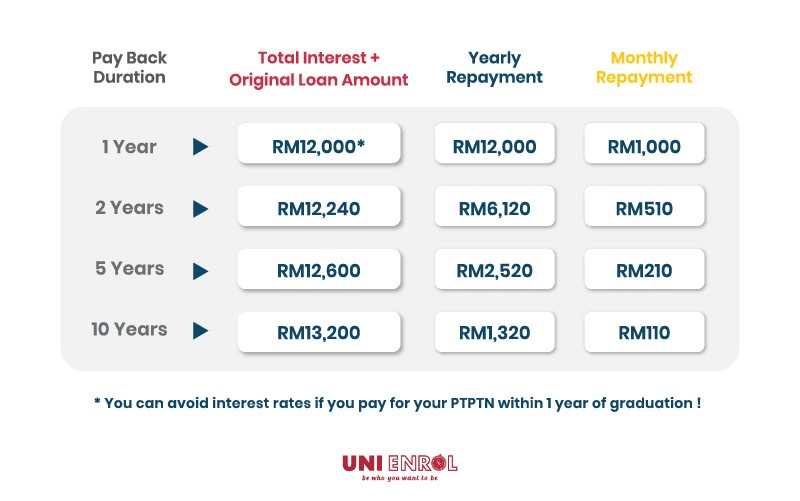 There are 2 ways that you can save on PTPTN loan interest charges.
You can start repaying your loan immediately after graduation.
You can do so by paying the same amount as stipulated by PTPTN.
By doing this, you will save on interest charges for a year.
Some students also opt to settle the loan amount in full within the first year after graduation.
However, always remember that you should pay what you can afford.
If you are not able to start repaying your loan early, do consider paying more than what PTPTN has set for you.
This way, you'll be able to settle your loan earlier than scheduled.
Bonus Tip
If you obtain first class honours for your degree, your PTPTN loan will be converted to a scholarship.
That means you won't have to pay back the loan at all!
Do note that the requirements to graduate with first class honours vary from programme to programme so make sure you are aware of it.
Further reading:
Your Easy Guide to Applying for PTPTN Loan
All You Need to Know About PTPTN
7 Things About Repaying Your PTPTN Loan