Table of Contents
The skill and knowledge of accounting is needed in every business and organisation.
It is used as an internationally recognised ''language'' to assess the health and sustainability of such businesses and organisations.
Therefore, accounting will always be relevant as its rules and standards adapt to the ever-changing business environment.
Deep knowledge in accounting also helps one to make more financially savvy and thought through decisions in life.
What is Uni Enrol?
Uni Enrol is an online platform that helps you lower the cost of your higher education. Use our Pathway Match tool to get matched with scholarships, exclusive deals and courses.
What is Accounting?

If you google "accounting" you will find its definition as a systematic process of recording financial transactions pertaining to a business which is used for analysing and reporting.
However, the true value of accounting is to allow an individual or company to make very critical key decisions for the future based on the assessment of historical financial trends and metrics.
Check out this video of why accounting is important.
Why Consider Accounting?

1. As an accountant you are the closest to understanding the insights of businesses and you will be in a trusted position to provide financial advice to management.
2. An accountant's salary can be lucrative especially a certified Chartered Accountant (CA). In Malaysia the demand for CA is high seeing that there are only 10,000 registered CAs.
3. Knowing how to manage finances already gives you an advantage if you plan to start a business as most business fail because of lack of financial understanding.
4. Accountancy can be a fulfilling career especially when you fit into these traits required to be a successful accountant.
Motivated in dealing and solving complex transactions
Comfortable and love working with numbers
Meticulous and have a good eye for details
Enjoy following and understanding business news
High ethical values
Fields of Accounting
Main Branches of Accounting Fields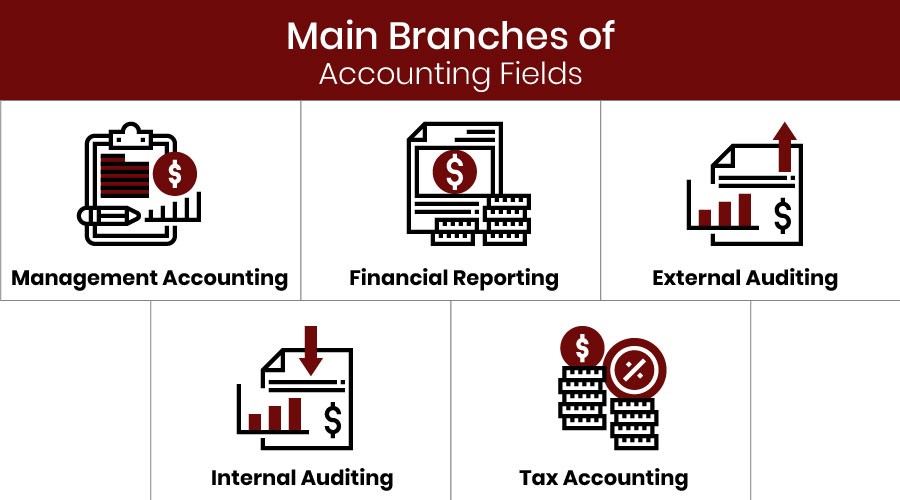 The five main branches in the fields of accounting include: Management Accounting, Financial Reporting, External Audit, Internal Audit, and Tax Accounting. Graduates must note that having CA certification allows one to accelerate their careers and have more opportunities to assume higher level of responsibilities and earnings.
Generally, those who do not attain CA certification have scope limited to operational tasks such as book-keeping, credit control, payables and receivables management and so forth.
This video best explains the difference between Accounting and Book-keeping:
Audit firms are the best places for graduates to fast track their career, salary and experience in the accounting line. Most audit firms require auditing staff to be certified CAs.
In accounting studies you will also cover taxation subjects which provides you with basic grounding to explore a career in tax.
What Does Your Pathway to Accounting Look Like?
Below are the typical pathways to getting your accounting degree.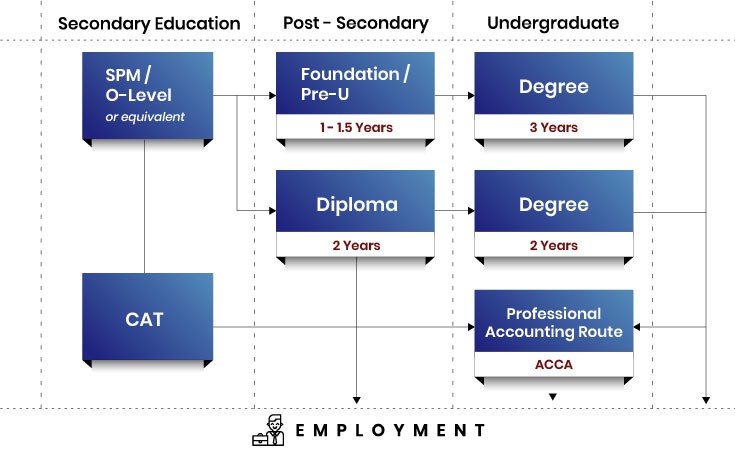 Minimum Requirements for a Degree in Accounting
To enrol in a degree programme in a Malaysian university, you will generally need:
| | |
| --- | --- |
| Qualification | Minimum Requirement |
| STPM | 3C |
| A-Level | 3C |
| UEC | 5B |
| SACE/AUSMAT | ATAR of 65 |
| Foundation | CGPA 2.5 |
| Diploma | CGPA 2.5 |
Do note different universities have varying requirements.
How to Be a Chartered Accountant?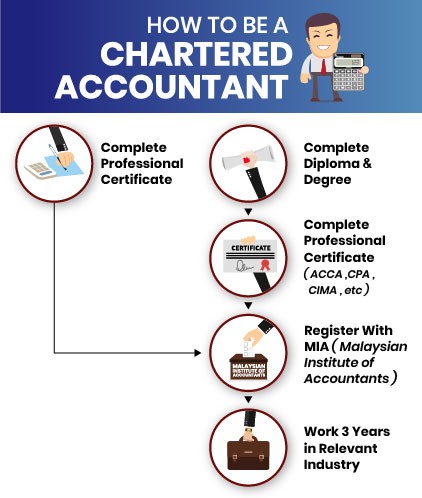 Special Note: Some universities offer a four-year accounting degree that is recognised by MIA. So you do not need to take further professional certification exams. Scroll down to find which university offers this!
Which Private Universities Offer Accounting Courses?
1. INTI International University & Colleges

Available courses:
Estimated tuition fees per year:
RM18,000 (Foundation)
RM16,000 (Diploma)
RM21,000 (Degree)
2. Taylor's University
Available courses:
Estimated tuition fees per year:
RM22,000 (Foundation)
RM33,300 (Degree)
RM20,000 (CAT & ACCA)
Read more about Taylor's Accounting courses here.
3. Swinburne University of Technology, Sarawak
Available courses:
Estimated tuition fees per year:
RM16,000 (Foundation)
RM23,000 (Degree)
4. KDU Penang University College
Available courses:
Estimated tuition fees per year:
RM17,000 (Foundation)
RM20,000 (Degree)
RM15,000 (Diploma)
5. Sunway University
Available courses:
Estimated tuition fees per year:
RM20,000 (Foundation)
RM27,000 (Degree)
RM12,000 (CAT & ACCA)
6. Multimedia University (MMU)
Available courses:
Estimated tuition fees per year:
RM17,000 (Foundation)
RM17,000 (Degree)
RM9,000 (Diploma)
7. International University Malaya-Wales
Available course:
Estimated tuition fees per year:
8. ACCA Programmes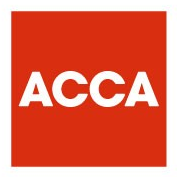 Institutions offering ACCA:
Taylor's University
Sunway University
KDU University College
MCKL
Sentral College
Disted College
Estimated tuition fees per year:
Use our Pathway Match tool to lower the cost of your higher education by checking for scholarships and deals that you're eligible for.