Table of Contents
Want to study accounting but not sure how much it costs?
To get a clear understanding of the different tuition fees out there, let us show you the cost of studying accounting in Malaysia.
We also show you the cost breakdown of pursuing an accounting degree and diploma in different parts of Malaysia.
Study Accounting Cost: Degree

To pursue an accounting degree you first need to complete a Foundation or International Pre-University course. You will need 5 credits in SPM or 3Bs in UEC to enter these courses.
If you scored 5Bs in UEC you can proceed directly to a degree.
Foundation courses cost RM14,000 on average.
These courses allow you to focus on studying subjects relevant to your degree.
They are also more affordable compared with other courses.
International Pre-University courses such as A-Level, SACE International and the Canadian International Matriculation Programme cost RM25,000 on average because they give you the flexibility to choose what and where you want to study next.

A 3-year accounting degree will cost RM70,000 on average.
During your degree, you will learn how to analyse financial data and help companies gain a competitive advantage.
You will also work with professionals at top banks and auditing firms such as Maybank, Deloitte and Standard Chartered through internships, projects and finance competitions.
The total average cost of pursuing a degree is RM84,000 for Foundation students and RM95,000 for International Pre-University students.
Note:
Most students take the ACCA or CPA exams to become chartered accountants after they graduate.
These exams demonstrate you've mastered important accounting skills for employers and help you advance your career.
However, you can study for a 4-year degree if you want to be exempt from taking these papers.
Study Accounting Cost: Diploma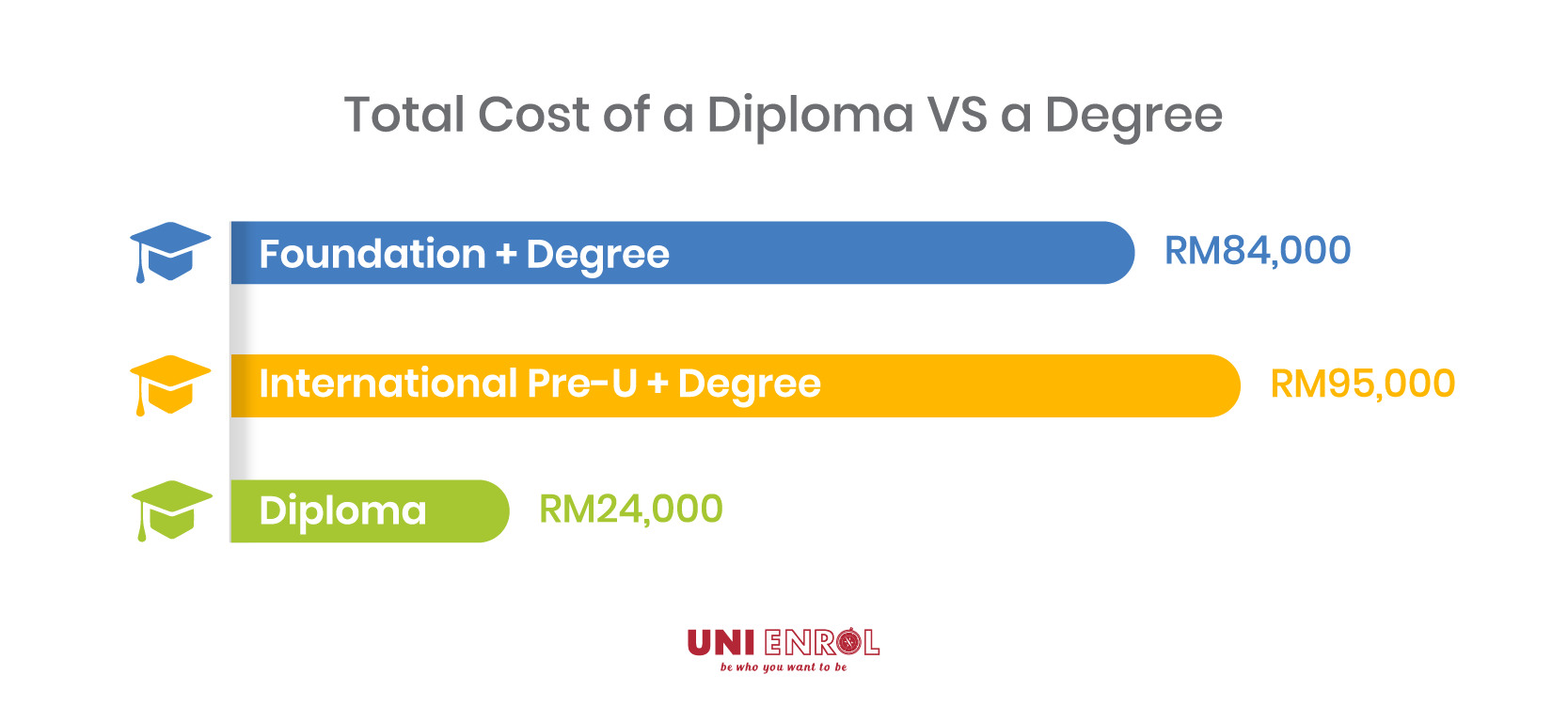 You can pursue a diploma in accounting with 3 credits in SPM and UEC. A diploma is a 2-year course that teaches you relevant accounting skills.
Accounting diplomas cost RM24,000 on average.
Diploma students begin working earlier than degree students.
This allows them to start their career early compared with degree students who will take an additional 2 to 3 years before embarking on their career.
You also save more in tuition fees compared with degree students who pay up to RM100,000 to complete a 3-year degree.
Cost Differences Across Malaysia
The cost of studying accounting will vary depending on where you choose to study.
This means you can find a university that fits your budget by choosing the right location.
Check out the total cost of pursuing an accounting diploma or degree across different regions in the diagram below.
This includes the cost of your Foundation or International Pre-University course before pursuing a degree. We also show the total cost of CAT courses with ACCA exams.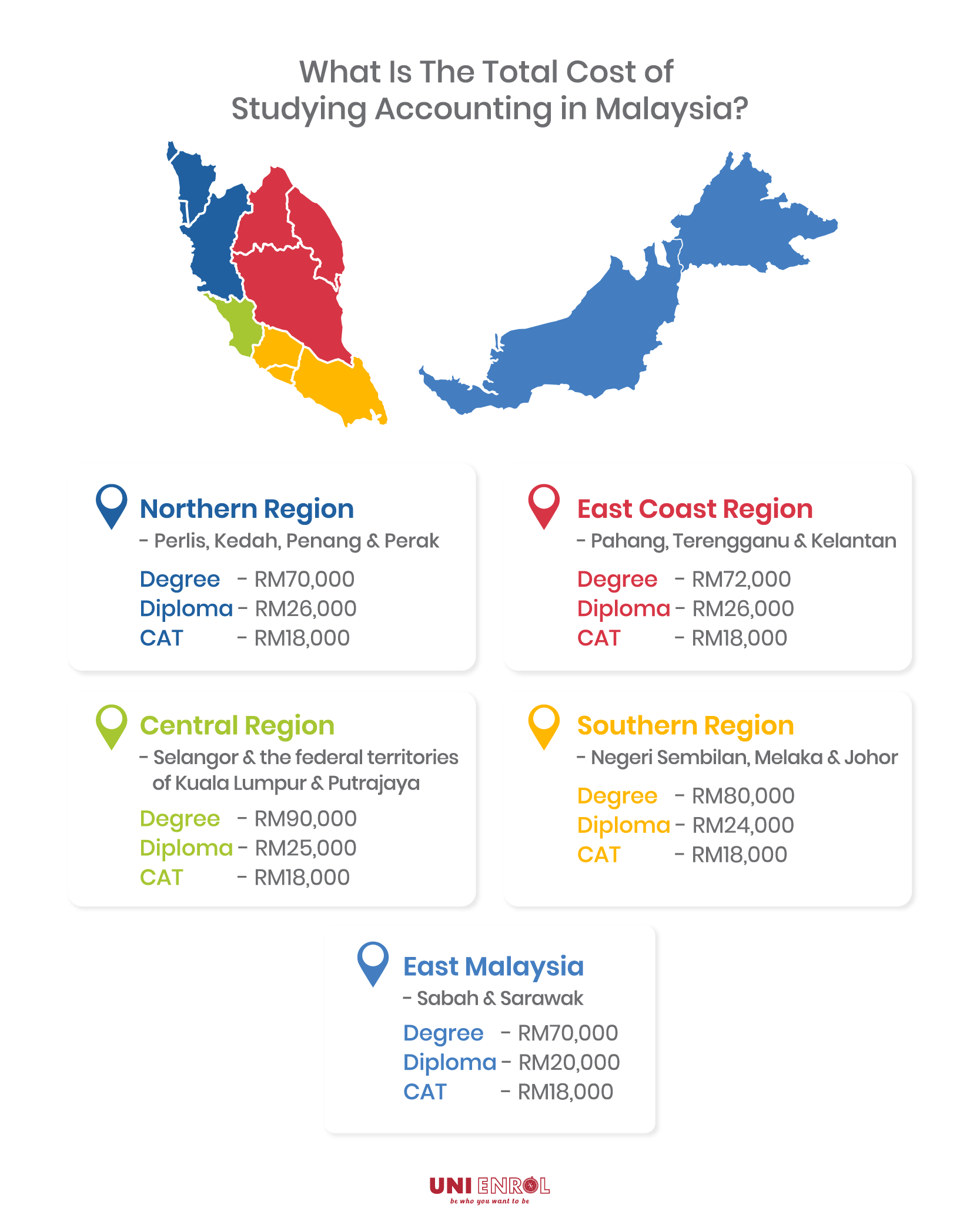 Central Region
Kuala Lumpur and Selangor offer the widest variety of accounting courses for students to choose from.
Universities that offer accounting courses include INTI International University & Colleges, Taylor's University and UCSI University & Colleges.
Northern Region
Penang universities are surrounded by vibrant tourist attractions and activities for students to explore.
There are many universities offering accounting courses such as SENTRAL College Penang, UOW Malaysia KDU and SEGi University & Colleges.
Southern Region
If you're looking to study abroad or experience studying at international universities, Johor is the perfect location for you.
Universities like Sunway University & Colleges allow students to transfer to Australia and earn a degree awarded by Victoria University.
East Coast
Accounting courses in Pahang are more affordable compared with courses in the Central and Southern regions.
Universities such as DRB-HICOM University of Automotive Malaysia offer degrees costing RM55,000 on average and Foundation courses costing around RM10,000.
East Malaysia
Sarawak is popular for some of the most scenic spots in Malaysia, and universities there are often surrounded by natural greenery with open campus environments.
They also offer affordable diploma courses which cost RM23,000 on average.
Universities that offer accounting courses include Swinburne University of Technology Malaysia and Curtin University Malaysia.
Want the full guide on accounting courses? Check it out here!