Table of Contents
Want to know the cost to study business in Malaysia?
We help you understand various tuition fees by showing you the full cost to study Business in Malaysia in locations such as Kuala Lumpur, Penang and Johor.
This article also shows you popular universities where you can save 20% or more on your tuition fees.
What Course Should I Take To Study Business?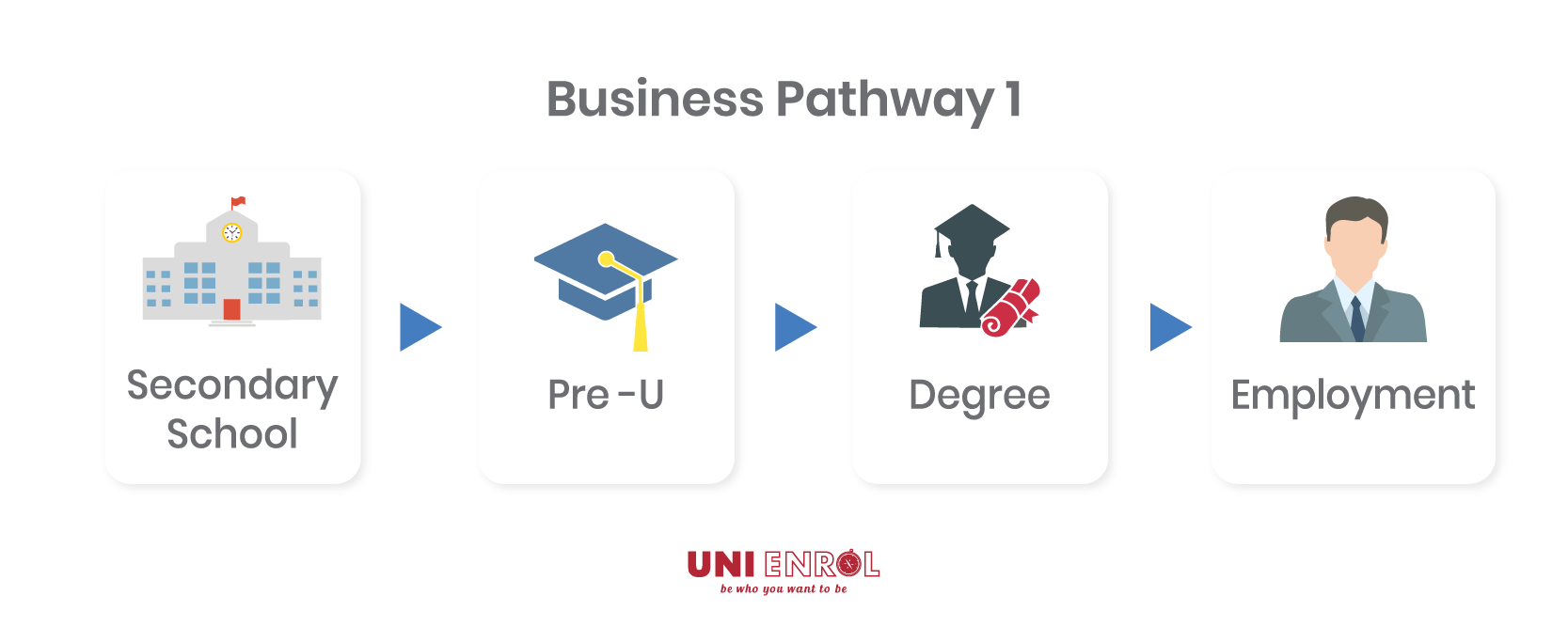 After secondary school, there are 3 popular education pathways to help you calculate the cost to study business in Malaysia.
Pathway 1: You can choose to study a pre-university course to pursue a business degree.
Pre-university courses consist of either Foundation (e.g. Foundation in Arts, Foundation in Business etc) or International Pre-University courses (e.g. A-level, SACE International or Canadian Pre-U etc).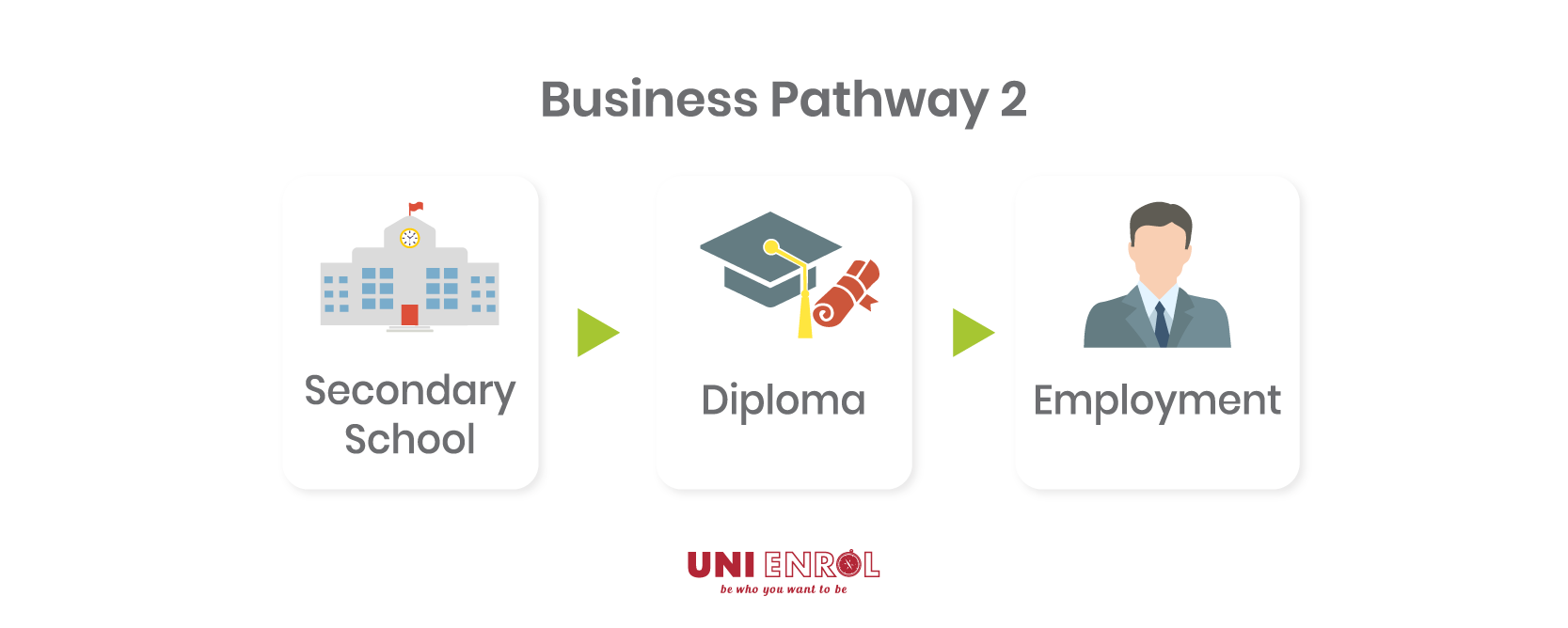 Pathway 2: You can opt to study a business diploma which will teach you practical skills to work in the relevant industries. Diploma courses are also among the most affordable ways to complete your business education.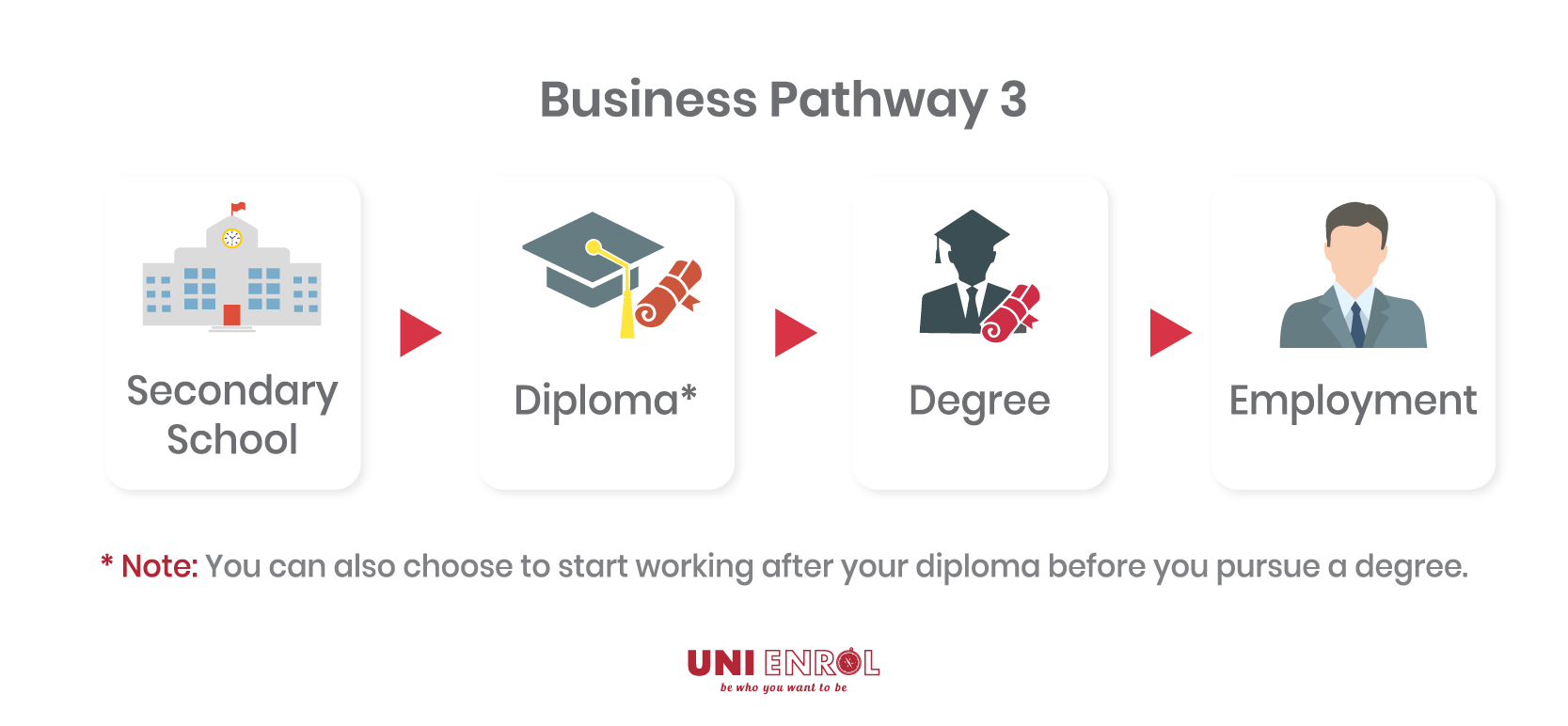 Pathway 3: You can also choose to pursue a degree after completing your diploma.
Students often choose this pathway to qualify for entry-level positions with higher salaries or gain more advanced business knowledge before they start their careers.
Graduating with a relevant diploma may allow you to skip the first year of your degree. However, this will depend on the subjects you can gain exemptions from.
For more detailed information about education pathways and insights into studying business, click here.
The Complete Cost to Study Business in Malaysia
As a full-service online platform, unienrol.com allows you to have complete visibility of tuition fees from over 80 reputable private colleges and universities across Malaysia at your convenience.
Out of the 80 institutions, there are 50 private institutions that offer business courses with a variety of specialisations, such as marketing, business administration and human resource management.
The image below shows you the full cost to study Business for the different pathways across Malaysia. We also explain the benefits of each pathway, so that you can find one which suits your needs.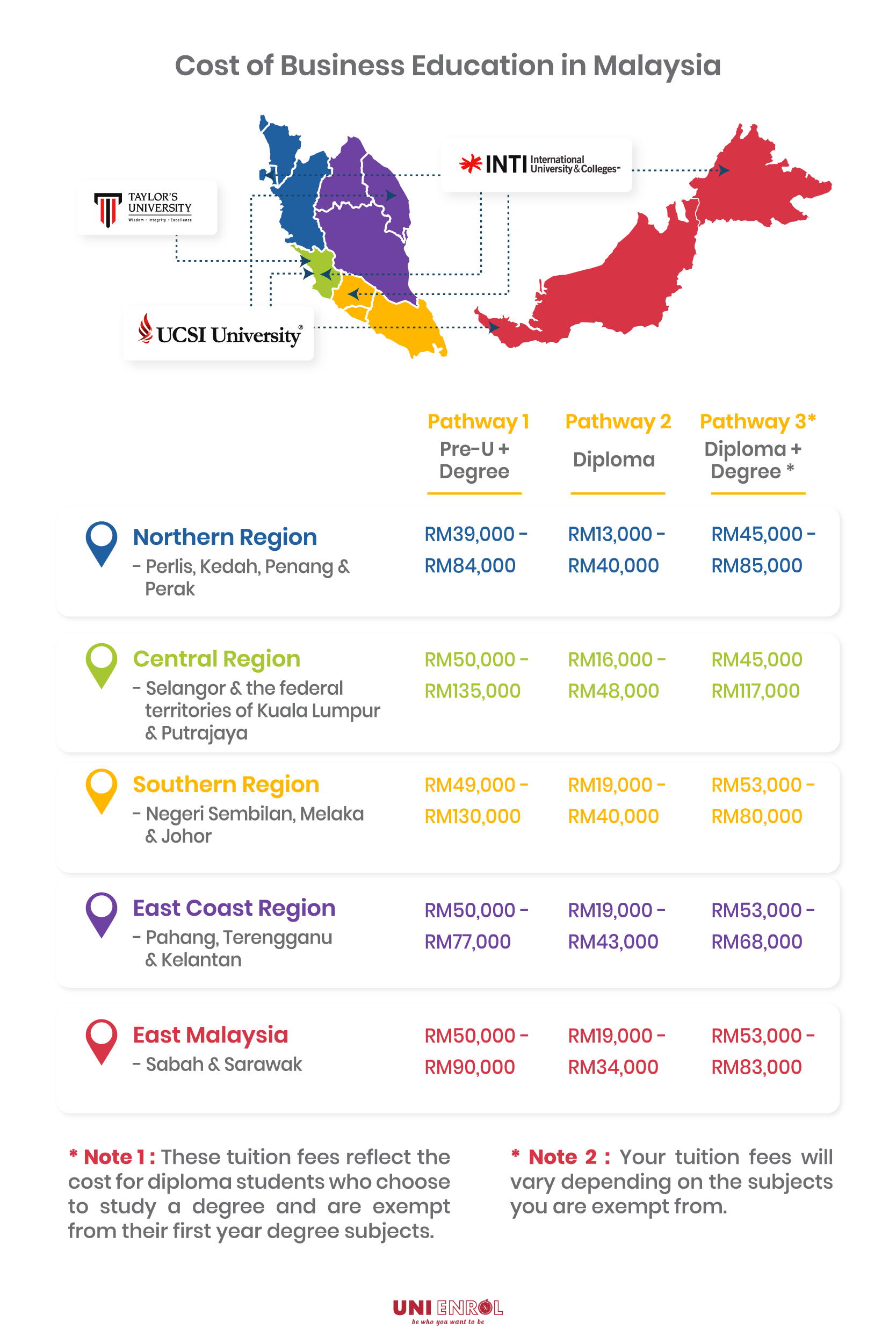 Pathway 1: Pre-university > Degree > Employment
Pathway 1 gives you the flexibility to explore other subjects throughout your business education.
While undergoing their pre-university and degree, students can choose to study subjects like psychology, legal studies, data science or Korean alongside their business subjects.
The most affordable business university at RM39,000 is AIMST University for its Foundation in Business and Bachelor of Business & Marketing course while studying at the University of Nottingham Malaysia costs RM135,000 for a Foundation in Business & Management and a Bachelor of Business Economics & Management.
University of Nottingham UK is a reputable university that was awarded 9th in the UK for economics by The Complete University Guide in 2020.
Business courses at the University of Nottingham Malaysia cost more because their students can access learning materials from the UK campus.
They also graduate with qualifications from the established UK university.
Pathway 2: Diploma > Employment
Diploma students can start their careers early because they take less time to complete their business education.
For example, diploma students take 2.5 years to complete their higher education compared with degree students who take 4 years.
Advance Tertiary College's (ATC) Diploma in Marketing is the most affordable diploma option at RM13,000, while a Diploma in Business at Taylor's University costs RM48,000.
Taylor's students pay higher fees but gain opportunities to work on business projects with real-world employers such as Shiseido, CIMB Group or KPMG.
Taylor's also helps students understand the best practices and management styles of top companies such as Dell Malaysia or Top Glove through field trips.
Pathway 3: Diploma > Degree > Employment
A diploma will help you develop a range of practical skills, giving you a good foundation to work in relevant industries.
A degree will give you additional knowledge and work experience to complement these skills through internships or projects from real-world employers.
A degree can also help you secure entry-level positions with a higher starting salary.
For example, degree students start out earning around RM800 more than diploma students at the beginning of their careers. 
The most affordable university at RM45,000 is Advance Tertiary College for its Diploma in Management and Bachelor of Business Administration courses, while Taylor's University offers a Diploma in Business and a Bachelor of Business for RM117,000.
How Can I Save At Popular Universities and Colleges?
You can save 20% or more on pre-university, diploma or degree courses with scholarships.
Here are scholarships offered by universities and colleges that are in popular demand by students looking to study business.
Taylor's College
Students can qualify for a 100% tuition fee waiver on pre-university or diploma courses through the Taylor's College Community Scholarship.
Students are required to have a family income below RM8,000 and 5As in their SPM to qualify for this scholarship.
UCSI University & Colleges
The UCSI University Trust Scholarship offers a tuition fee waiver of up to 60% on Foundation courses for students who score 7As in their SPM. 
Students pursuing a business degree can also save up to 50% with the UCSI University Trust Scholarship.
Students must score ABB for A-level or a CGPA of 3.50 for their Foundation course to be eligible for the scholarship.
INTI International University & Colleges
Students can save up to 30% on their business diploma through the INTI Merit Scholarship with 5As in their SPM.
Students applying to INTI College Sabah can get 20% off a business administration degree through the INTI College Sabah Bursary.
The minimum requirements for this scholarship are 2Es for A-level or ATAR 65 for SACE International.
*Note: It is also recommended that you are actively involved in co-curricular activities to increase your chances of qualifying for selected scholarships. 
Save More With Scholarships
Get matched with scholarships using our Pathway Match tool.
We help you save on your higher education by matching you with scholarships and savings from over 70 private universities and colleges.
You can also enjoy exclusive bursaries by applying to these universities through us.