Table of Contents
In our previous A-Levels article, we shared an extensive guide on what it is all about, including information about scholarships and fees. Whether or not you know what university course you will take, you still need to pick specific subjects for your curriculum.
Worry not! We are here to give you an easy guide on how to make your choices! Hopefully, you will find it easier to decide after reading our advice.
6 Ways To Personalise Your Course
1. Find Out What Subjects Are Offered at Your College
There are over 50 subjects offered by the Cambridge International Advanced Level and around 19 by Edexcel Advanced Level. These subjects cover various educational disciplines. Among those you can choose from are
Law
Psychology
Business Studies
Actuarial Science
Computer Science
Music
Drama
Humanities
Environmental Sciences, and more!
Despite that, not all subjects may be available at local institutions.
For example, you can find Computer Science at Taylor's University. However, this subject is unavailable at HELP University College and KDU University College.
Therefore, remember to check in with your college on your field of study before you submit your application.
2. Find Out the Minimum Entry Requirements
Before you hop on board, the entry criteria are must-to-know details.
If you plan to take non-Science subjects in your A-Levels, you need at least 5 credits in your SPM to be accepted. Plus, there are generally no pre-requisite subjects required from SPM.
However, if you plan to take Science-related subjects for A-Level, most universities have fixed SPM requirements. For example, you need a minimum of C's in specific or all your Science SPM subjects.
3. Check the Mandatory Subjects for Your Undergraduate Couse
So you already know what you are planning to take for your degree?
That's great!
You should also know that some degree courses require specific mandatory subjects in your pre-university studies. Thus, we have compiled a handy list of popular degree subjects Malaysian students usually opt for after A-Levels, along with their mandatory and recommended subjects.
What are recommended subjects?
These subjects offer a broader exposure to the field you are interested. Having them as part of your course will boost your performance when you apply to top universities.
Engineering

Mandatory subjects:

Mathematics and Physics

Recommended subjects:

Further Mathematics, Chemistry




Business

Mandatory subject:

Mathematics

Recommended subject:

Economics




Medicine

Mandatory subjects:

Mathematics, Biology, Chemistry

Recommended subject:

Physics




Dentistry

Mandatory subjects:

Biology, Chemistry

Recommended subject:

Mathematics

Law

Mandatory subject:

None

Recommended subject:

English, Economics, Sociology




Accounting & Finance

Mandatory subjects:

Mathematics

Recommended subject:

Economics




Computer Science & IT

Mandatory subjects:

Mathematics, Information Technology

Recommended subject:

Physics
Don't know which institutions are offering A-Levels? They are just a stone's throw away!
In Malaysia, many universities do offer it. Here are a few:
Taylor's University College,
Brickfields Asia College,
INTI International University & Colleges,
City University, Sunway University,
Crescendo International College,
Advanced Tertiary College,
KDU University College,
KDU Penang University College,
HELP University College, and
DISTED College.
Need more help with your application and have other questions regarding your A-Levels? Talk to one of our education counsellors! They will help you answer your queries.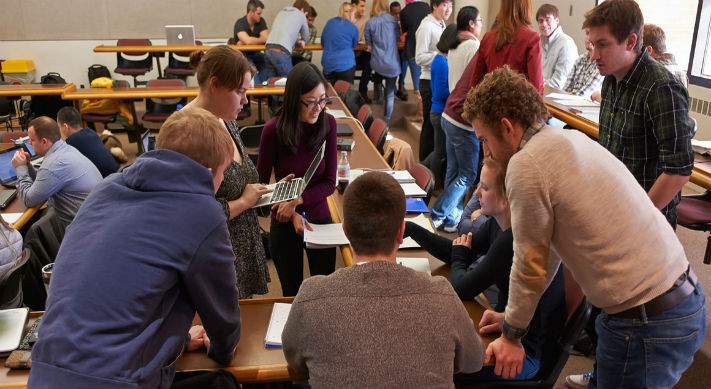 4. Find Out How Many A-Levels Subjects to Take
Taking 3 A-Level subjects with the right combination is sufficient to enrol on any degree course. Your pre-university curriculum covers all the basics you need for the degree you are aiming for.
Students aiming to get into top-tier universities abroad can consider taking on 4 subjects. However, do keep in mind that it will be challenging!
Tips:
Regularly keep track of your well-being. Keep checking in with yourself.
Reach out to your mentors, peers or your university's support staff whenever you come across any struggles.
5. You Can Take 'Facilitating Subjects' If You Are Undecided
Being undecided is not always a bad thing. It just means that you may need more time to explore your available pathways.
Facilitating subjects will give you more course options after you finish your A-levels. These modules may be seen as general, but they are just as important to supply you with the essentials for your future education. The plus point is that facilitating subjects are frequently asked for by universities.
Examples of facilitating subjects include
Mathematics,
Further Mathematics,
Biology,
English Literature,
Geography,
Physics, and
History.
Caution: You cannot apply for a Science degree if you took Arts-related A-Levels subjects.
You can apply for an Arts degree with Science-related subjects.
However, some higher education institutions might require you to take an additional entry test or prepare a portfolio.

6. Determine What Your Strengths and Interests Are
We understand that picking your A-Levels subjects may be difficult, but it is important to know whether you can do well and are interested in them.
For instance, you may have always been good at languages and writing essays, so picking subjects such as English Literature and Law would not be a problem. One way to determine your strength is to list down your goals and questions to ask yourself, such as
Do I enjoy the subject?
What do I like/ dislike about the subject?
Do I want make this part of my future job?
What do I want to do with this qualification
If I am unsure, who can I ask?
It is okay if you do not have the answers. As long as you are willing to learn about your interested field of study, you are making progress. And luckily for you, there are now a lot of FREE online resources (such as Cambridge International and GoConqr) for you to get a better picture of the subjects.
If you need more information on A-Level and other pre-university courses, contact our counsellors today to understand them better!