Table of Contents
According to our survey of 31,000 SPM students in 2021, about 10% of them stated that they want to study Business after SPM.
So let's take a look at what business is, and which private university offers Business courses in Malaysia.
What is Business?
Business is a general term that essentially means providing a product or a service in exchange for monetary compensation.
The study of business on the other hand is learning how to develop a business as well as run the daily operations of a company.
Why Should You Study Business?
You would have heard by now that Business studies are very versatile and that is true. Your knowledge will increase your demand across all industries.
Where there are trading activities taking place, your knowledge and skills will be highly sought after. 
What Are The Common Business Courses?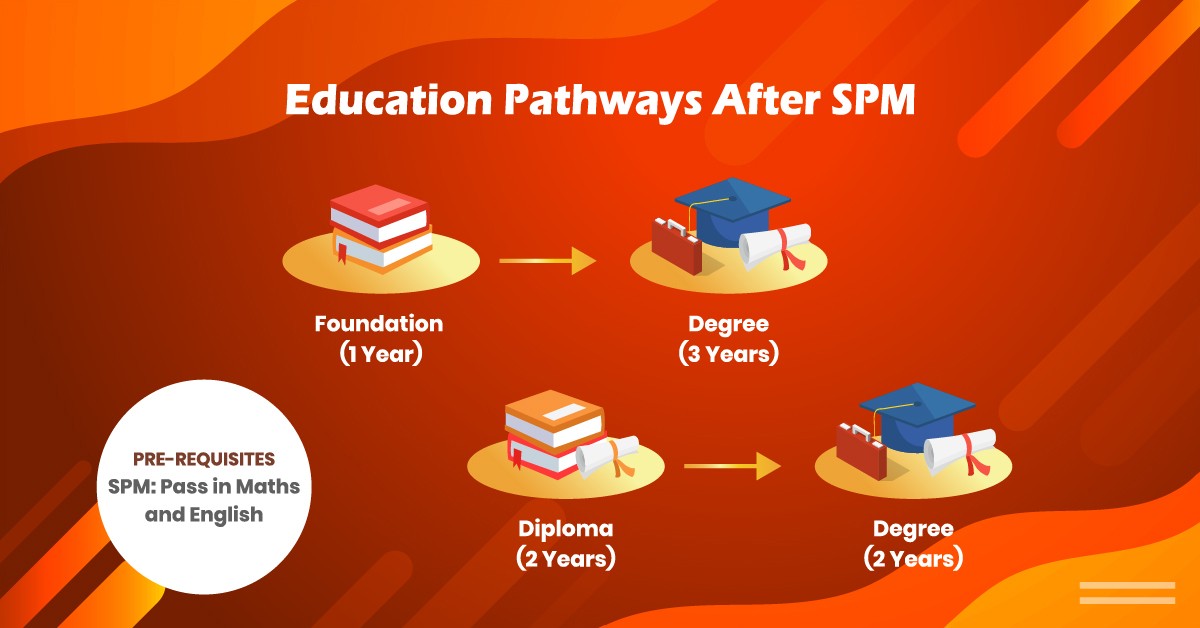 There are many types of courses that allow you to study business out there.
The two most popular ones are Business Administration and Business & Management, according to our study on SPM students in 2021.
International Business and Marketing courses were also popular among SPM students in 2021.
The majority of those surveyed also preferred to take up the Foundation course followed by a business degree.
Here are some of the other Business courses commonly offered in Malaysian private universities:
Aside from those courses, universities are also adapting to rapid technological advancement by offering courses that are tech-centric.
For example, some universities offer a Business degree with specialisation in Fintech and they work closely with industry partners to bring the latest practices to students.
What Will You Learn in Business Courses?
Many Business courses share the same core modules, allowing for some forms of customisation. The general subjects that you take form the foundation for your understanding of the industry.
While studying business at a diploma level, you will learn general subjects such as managing business and people, finance, accounting, IT, and marketing. 
A business degree will, in addition, gain you exposure to subjects such as international business, principles of leadership, and economics.
Year 3 is when students will begin focusing on their specializing in a field of business, taking specific subjects to craft their major, and participating in industrial training. 
Top Business Universities in Malaysia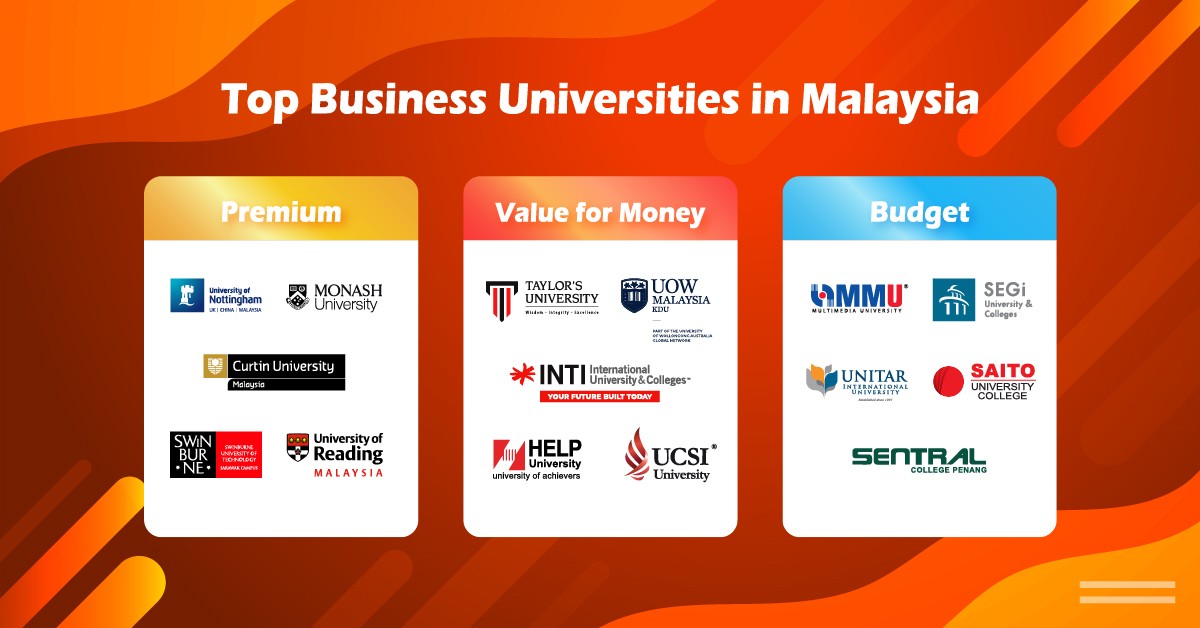 Business courses are one of the most popular courses in institutions around the world.
In Malaysia, because of its popularity some of the top institutions are able to offer state-of-the-art facilities and close partnerships with industry giants.
There are also institutions that have a group of experienced faculty members in charge of educating the next generation of leaders.
For many students, the quality of faculty members and the networking opportunities with industry professionals are some factors in choosing their preferred university.
Take a look at the cost breakdown for the different pathways and universities to a business qualification here!
How Fast Can I Get a Job in Business?
The quickest pathway from your studies to entering the workforce is 2 years, which is through a diploma course.
If you opt for a business degree, you can begin your career 4 years after completing your SPM.
The starting pay for diploma graduates lies within the RM1,800 to RM2,000 range while degree grads can command RM2,500 to RM2,800 to start with.
What Are The Common Qualifications/Certifications in Business?
Professional certifications are not a requirement in Business. However, having certain professional certifications will put you ahead of the pool of candidates. 
There also are role-specific certifications that employers look out for.
For example, in HR, employers tend to look for candidates with SHRM qualifications.
In marketing, on the other hand, certifications from Google, Hubspot, and Salesforce are common and sought-after by employers.
Things You Need To Know About Business Career
1. You Can Start Early
Unlike Medicine or Law, you can start your business career even when you are in secondary school.
It doesn't take much to be an entrepreneur, and you would have a leg up on your peers when you go to university.
2. Professional Certifications Are Add-Ons
Professional certifications are not a requirement.
However, these certifications are a good indicator to potential employers of the skill set that a candidate can bring to the company.
3. There Are Plenty of Opportunities
When you decide to study Business, you open yourself up to a world of opportunities.
Your knowledge can be applied in virtually all industries, and your skills are always in demand.
Popular Business-related Jobs
1. Business Adviser
Provide specialist finance and funding advice, consult on organisational change, and offer advice on innovation in technology to support a business.
2. Business Development Management
Identify new business opportunities in order to generate revenue, improve profit and help with business growth through strategic planning.
3. Business Analyst
Monitor the business performance of a company and implement strategic and operational improvements by interpreting data to present useful insights to key management.
4. Supply Chain Manager
Oversee and manage every stage of the production flow, from purchasing raw materials to the delivery of the final product.
5. Entrepreneur
Create a business selling a product or service based on the needs identified in the community.
6. Sales specialists
Guide a company to grow its operations by improving specific practices they use.
7. Marketing specialists
Coordinate with marketing and sales staff to create innovative campaigns for the brand or product.
Want to kickstart your study business pathway? Find out how to apply online or lock in special deals with us today.
Tell our counselors what and where you want to study and they'll guide you the rest of the way!