According to our study on 30,000 SPM students, in 2021 about 10% chose Accounting as their preferred choice to pursue in university. So what's Accounting all about? Here's a comprehensive look.
What is Accounting?
In accounting, you gather, analyse, and report financial data to the management so that they can keep track of the company's financial status and make strategic business decisions based on that.
Why Should You Choose Accounting?
Accounting jobs continue to be in high demand even when tech jobs are hot commodities. A quick survey of JobStreet.com and you will find a long list of accounting-related jobs.
Accounting also gives you a variety of options in terms of education pathways and career. After SPM, you can choose from pre-university, the ACCA Foundation in Accounting (FIA)*, or diploma courses and either proceed to a degree or ACCA course.
After graduation, your career options are endless. Want to work with a sports team? How about a top tech company? All companies need someone with an accounting background and you can choose from a wide range of industries.
*ACCA is replacing Certified Accounting Technicians with ACCA-FIA as a direct route to ACCA.
What Are The Common Accounting Courses?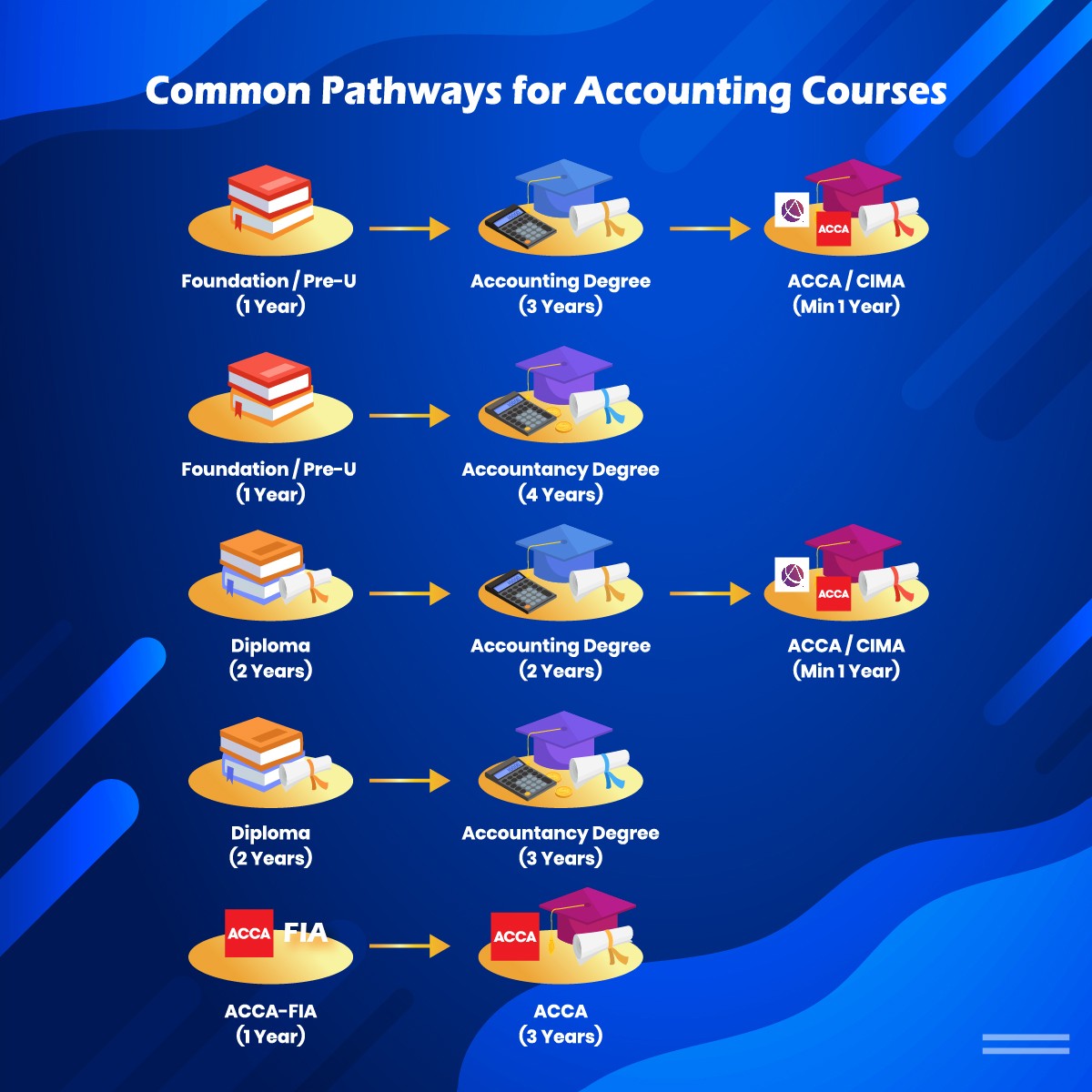 If you want flexibility or are unsure, choose pre-university courses to explore your options. It gives you flexibility and also opportunities to hone your soft skills through assignments.
If you are sure you want to take ACCA, FIA will be the best option since it focuses on the fundamental papers and it is 100% exam based. 
For those of you who are considering a diploma course, you'll get to save on your tuition and secure a job earlier. 
Not all degree courses are the same. Some offer more exemptions for professional exam papers and also a wider variety of modules. 
Note: There is a difference between Accounting and Accountancy degrees. An Accounting degree does not mean you are automatically qualified as a chartered accountant. You will still need to obtain the ACCA/CIMA qualifications and 3 years work experience.
Graduates with a 4-year Accountancy Degree can skip ACCA/CIMA and register with Malaysian Institute of Accountant (MIA) as a chartered accountant after getting 3 years work experience. Only Accountancy degrees from MMU, INTI at Nilai, UTAR at Sungai Long, and MSU are recognised by MIA. 
Top Accounting Universities
There are many colleges and universities that offer Accounting courses. Some offer a better study environment, while some offer experienced lecturers with a good track record of excellence. Below are 9 universities we think you need to check out for their Accounting courses.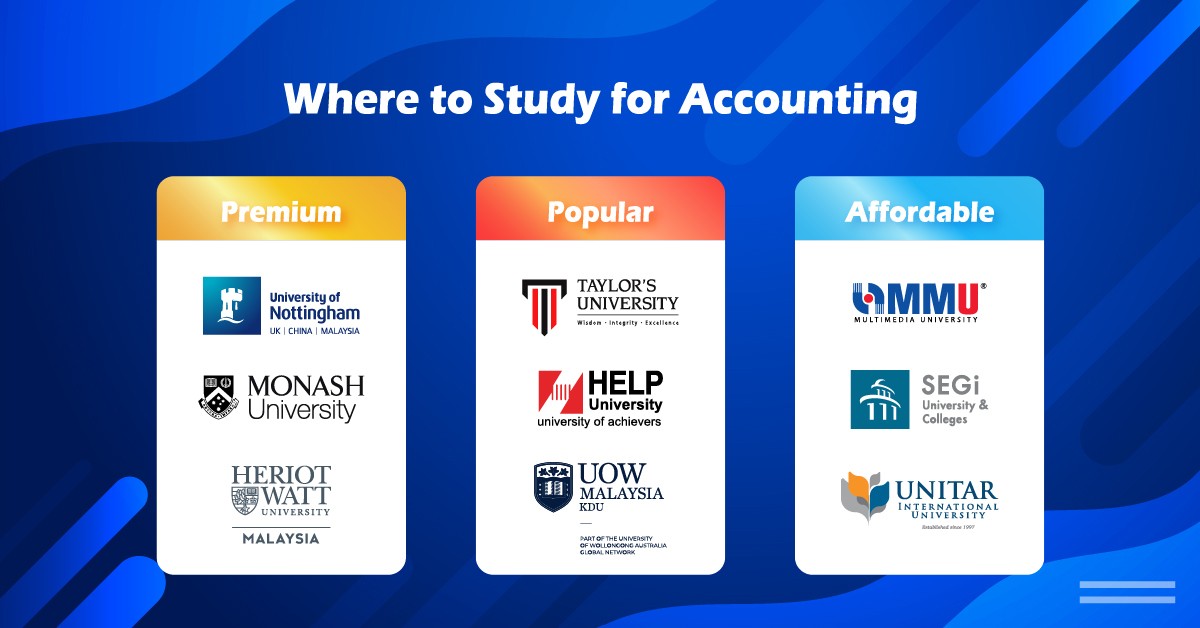 How Fast Can I Get a Job in Accounting?
You can start working in accounting-related jobs in as little as 2 years with a diploma after your SPM. Your starting pay would be between RM1,500 to RM1,800. 
For those who are considering the degree path, you can start working in an accounting-related job 4 years after your SPM. Starting pay for degree holders are between RM2,300 to RM2,500.
What Are The Common Qualifications/Certifications In Accounting?
You don't need to be a chartered accountant to work in accounting in Malaysia. However, professional qualifications such as ACCA, CIMA, ICAEW, CPA are pre-requisite for you to be registered with the MIA as a chartered accountant, alongside 3 years of work experience.
Things You Need To Know About Accounting Career
You don't need professional certification to work in accounting
Should you go for that professional accounting certification? Absolutely, especially when you want to advance your career (and enhance your earning) in accounting. 
However, you should also consider other certifications that can complement your accounting knowledge. Why not consider tech certifications and venture into accounting technology?
Professional certification is minimum for some firms to hire graduates
For major accounting firms such as Ernst & Young, KPMG, Deloitte, and PriceWaterhouseCoopers, an accounting degree is the minimum requirement for their entry level hires. 
Pro tip: Employers will prioritize those with professional certifications in their consideration when hiring new employees.
Beyond the major firms, smaller companies will hire graduates with a diploma qualification for some of their accounting roles.
Average need to spend 7 years to be a chartered accountant
You will spend a minimum of 4 years studying. Only after that will you be able to sit for the exam papers that will fulfill your professional certification requirements. You will need 3 years of work experience after that in order to register as a chartered accountant.
The quickest way to get chartered accountant status is through the ACCA Foundation in Accounting (FIA) course, followed by the ACCA course itself. You will need to accumulate 3 years of work experience before you are able to register as a chartered accountant. 
Popular Accounting Jobs
Finance Executive
Manages daily banking transactions, ensures the relevant records are updated, and compiles various financial reports.
Tax Advisor
Advises clients on how to calculate taxes in the most efficient way based on current tax benefits and exemptions.
External Auditor
Examines financial records and other data to keep stakeholders updated on the company's performance, and helps business in risk management.
Chartered Accountant
Gives advice, audits accounts and produces accurate financial records to help the company increase its profitability.
Want to know how to apply online or lock in special deals? Tell our counselors what you want to study and they'll guide you the rest of the way!