Table of Contents
If you are planning for your departure to Australia for your studies, you can be sure that a great adventure awaits you! And hopefully, many encounters with koala bears and ocean views.
However, did you know that once you enrol to an Australian university, you will have to make a lot of preparations before you embark your new life abroad?
Even though the processes you will go through may look extensive at first, they are necessary to ease your study abroad when you have understood them thoroughly.
Before You Can Study in Australia, You Need a Student Visa
The electronic student visa will determine whether you can study in Australia, which you can apply for via ImmiAccount.
International students are required to apply for the Student Visa (subclass 500).
The price for a student visa is from AUD 560, and processing times vary, usually taking up until 46 days.
We recommend that you start your visa application at least 2 months before your intake date.
Why is a student visa so important when you study abroad?
You need a student visa to legally stay in Australia for up to five years (unless you need to extend your stay). With this document, you can work a maximum of 40 hours for two weeks when your classes are in session and unlimited hours during your off days.
However, there are two things that you will need to do before you can apply for your student visa:
You need to receive a Confirmation of Enrolment (COE) from the institution
You need to pay for your Overseas Students' Health Cover (OSHC)
Furthermore, you need to get your Certification of Enrolment (COE) from your awarding university after completing the following:
formally accepted an offer,
returned your signed acceptance and refund forms, and
made payment for your first semester of study.
The COE is an online code that enables you to enter the appropriate section of the online visa application.
Note: The university can use 7-10 working days to provide you with your COE.
OSHC is insurance to assist international students with the necessary hospital and medical care costs while they study in Australia. In addition,
the payment also includes benefits for pharmaceuticals and ambulance services.
The Australian government has provided a list of selected OSHC providers; popular ones among Malaysian students are
BUPA Australia,
Medibank Private,
Allianz Global Assistance, and
NIB Health Funds Limited.
According to research, the lowest cost for minimum coverage is
AUD 438 per year for singles,
AUD 2,685 per year for couples, and
AUD 4,026 per year for families.
You can purchase your insurance immediately. However, it may take 1-7 working days for the insurance to be processed, depending on your payment method.
While applying for your student visa, you will also be required to show proof that you meet specific requirements, including
financial requirements,
English proficiency requirements and
health requirements (where you need a medical checkup with an authorised panel physician).
Get FREE guidance on what you need to study abroad in Australia and a scholarship match here.
Done applying for your visa? Great! You are almost ready to go to Australia!
What do you need? Use this checklist to help you pack!
Before you make your big move to Australia, it is important to have a checklist of the things you need to pack.
You will need to bring along these necessary documents, such as your
passport,
university offer letter,
debit/credit cards, and
driver's license.
These documents are vital for
university admission purposes,
opening your bank account and
buying/renting a car.
Naturally, you will also have to bring your personal belongings with you.
You can choose to buy them upon arrival. Usually, when you arrive at a new place, you will be unfamiliar with your surroundings, so you may need some time before you can start shopping.
"What do I do then?"
Don't worry. We have prepared a checklist for you to print out and use as you pack for your departure to Australia.
Download your digital copy here.
Hot Tips:
Remember, Australia is a four-season country and you will need to prepare for cold weather!
To avoid homesickness, bring some of your favourite mementos from home (e.g pictures, your diary, or even a small blanket)
Do a little bit of research on the kinds of items and food you are prohibited from bringing into Australia.
Finally… Mentally Prepare Yourself for Your Departure to Australia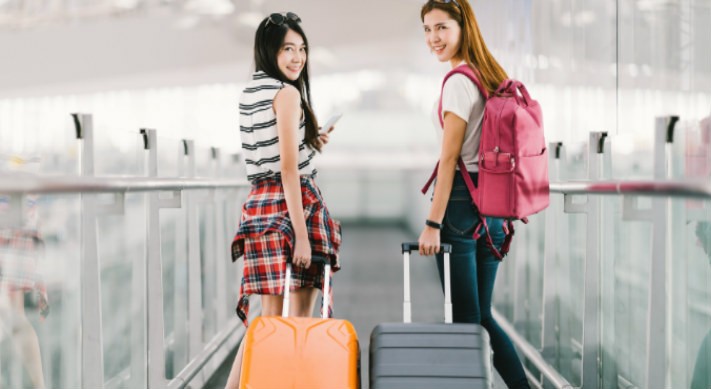 The thought of independence in another country is exciting. Even so, it will not be an easy transition, especially when you are going to be far away from your family and friends. Here are several ways you can get yourself ready for the long journey ahead:
Spend quality time with your loved ones.

As you will not be seeing them as frequently as you want, take the time off to be with your family and friends.
Tip: you can even have regular video calls to ease your homesickness when you begin your studies.

Make sure you do as much research as you can about your new home away from home.

Australia will be a whole new country for you to get used to, so things will get a little overwhelming when you get there.
You can prepare yourself by consulting trusted professionals and the people around you.

Most of all, you will not be alone in Australia.

The good news is many Malaysians are studying in Australia.
You can connect with local Malaysian communities to get all the guidance and help you need.
Check out this list when you want to connect with your fellow Malaysians in Australia.
In Conclusion?
If you have the chance to experience studying abroad, go for it! You may find your inspiration for your future pathway. Furthermore, you may even pick up valuable skills that will help you overcome your hurdles and build your confidence.

So, begin your journey with a Study Abroad Consultant today to gain more in-depth details before your trip!