PTPTN is one of the easiest ways for Malaysian students to finance their higher education and offset the cost incurred from tuition fees and expenses during tertiary studies.
It allows students from all walks of life to have the opportunity to further their studies at the college/university level.
Let's look at a few things that you need to know before applying for the loan, and the steps involved to submit a PTPTN online application.
We'll also show you a step by step guide on how to apply for PTPTN online.

What is PTPTN?
PTPTN is Perbadanan Tabung Pendidikan Tinggi Nasional, a government institution that was established to provide study loans to Malaysian students for their local tertiary education.
The loan covers foundation, diploma, degree, and postgraduate studies.
Who is Eligible to Apply for PTPTN Loan?
To submit a PTPTN application, you need to fulfil the following criteria:
Malaysian citizen
Age 45 years and below
Passed SPM with at least 3 credits in any subjects; or
Passed SPM and obtained a CGPA of 3.0 and above for a community college Certificate graduate who received an offer to a polytechnic diploma level or a polytechnic diploma graduate who is offered a postgraduate degree
Must have received an offer to study at an institution of a higher learning (either public or private institutions)
The course that you are studying is accredited by the Malaysian Qualifications Agency (MQA).
How Much Can You Borrow?
Your PTPTN loan amount will be decided by 2 factors:
Your Household Income
The percentage of the maximum amount of PTPTN funds you can apply for depends on which category you fall under. 

Your Chosen Course and University
Since tuition fees for private institutions are more expensive, their loan amounts are higher compared with public institutions.
The same goes for science courses compared with arts & humanities courses.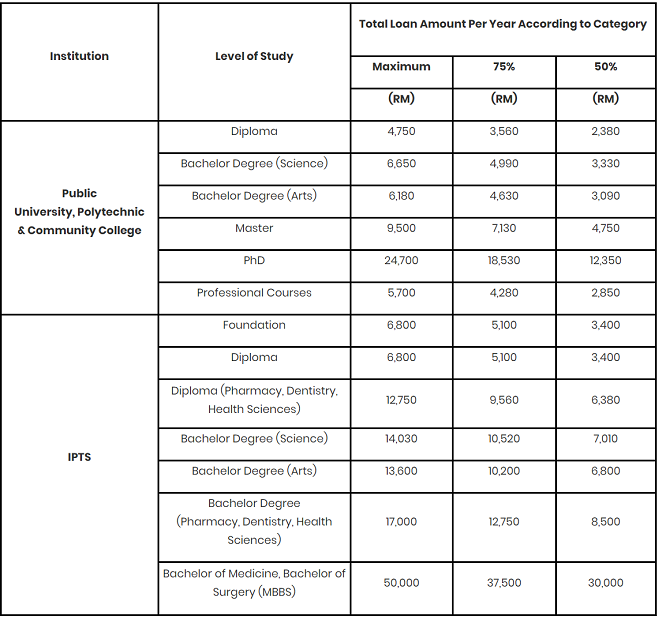 Do note that only Foundation courses at these Private Institutions are eligible for PTPTN loan:
Universiti Multimedia (MMU)

Universiti Tenaga Nasional (UNITEN)

Universiti Teknologi Petronas (UTP)

Universiti Tun Abdul Razak (UNITAR)
Example of PTPTN Loan Application
Let's say your household income is RM6,000 and you want to pursue a Degree in Engineering at a private institution.
You will be eligible for a maximum loan of RM10,520 per year, which is a total loan amount of RM42,080 for a 4-year Engineering Degree.
A PTPTN degree loan may only cover part of your study fees so it is advisable to plan your finances carefully to avoid any gaps in funding for your tertiary education!

5 Easy Steps To Apply For a PTPTN Loan
Step 1: Complete Required Procedures at the Bank
Open a Skim Simpanan Pendidikan Nasional (SSPN-i account) at Maybank, Bank Simpanan Nasional (BSN), Bank Islam, CIMB Bank, Agrobank or Bank Rakyat.
Alternatively, you can do this at any PTPTN counters.
Open a savings account at a panel bank.
Remember to check with your institution on the banks that are in their panel.
Buy a PTPTN PIN number from BSN for RM5.
The number will be valid for 6 months and once you log in you will be using this PIN number for all your PTPTN related matters.
Note: You can only apply for your PTPTN loan with a SSPN-i account so it's important that you complete this step first.
Do follow their instructions carefully.
Providing incorrect or insufficient details will only cause your application to be rejected.
Note: If you plan to apply for scholarships as well you can check here if you are able to use both to pay for the course you want.
Step 3: Check the Results of Your PTPTN Application
You can start checking the results of your loan application 6 working days after the closing date of your PTPTN online application.
Step 4: Submit Relevant Documents to Your Institution
Consult your college or university's PTPTN officer so that you don't miss out on any important documents.
Generally, these are the supporting documents you need to send to your college/university:
Your IC
SPM/O-level (or equivalent) certificate (Copy of SPM result transcript will only be accepted if the period of time commencing from year of the SPM to the year of the application does not exceed 2 years).
Official offer letter from the college/university
Personal account number statement /book
Pre-university certificate and transcript (STPM/A-Level/ Diploma/ Foundation/UEC or equivalent).
Parents' payslip (within the last 6 months)/BE form (latest)/income certification form/ letter of confirmation of unemployment for housewife or retired parents
2 sets of PTPTN agreement and its Letter of Offer (printable from the PTPTN website once the online application has been done)
Confirmation letter of the student status from university/college
Examination results of each of the previous semesters
Step 5: Receive First Payment
Loan disbursement will be paid into the designated bank account 2 months upon approval, so be prepared to pay your registration and tuition fees first.
You can check your balance and payment of PTPTN online through the PTPTN i-online portal.
The important thing is to prepare your financial resources early in order to have sufficient funds to pay for your current semester fees.
If you have any questions regarding your PTPTN loan application, you can visit their official website for more information. 
Call our counsellors today and let us show you how to save money on your higher education.