Quantity surveyors play an essential part in improving urban spaces through construction projects.
These projects can have different purposes such as creating better highways to optimise traffic flow or massive shopping malls for tourism and entertainment such as Pavilion Kuala Lumpur.
This guide explains how you can pursue a quantity surveying education pathway in Malaysia.
What is Quantity Surveying?
Quantity surveyors are commonly known for calculating the cost of materials for construction projects such as houses, stadiums, bridges or public transport.
However, quantity surveyors do more than just cost calculation.
A quantity surveyor's job often requires them to plan effectively and manage resources, manpower and time to ensure projects are completed on time and within budget.
They must also be good communicators to work alongside different groups involved in the construction project such as contractors, site workers and lawyers.
Watch this video to understand how upcoming construction projects are impacting Malaysia.
Why Consider Quantity Surveying?
There is a constant demand for quantity surveyors since developing nations often improve their citizen's living standards by building better public facilities or housing.
Quantity surveyors also have opportunities to travel abroad since they will travel to construction sites overseas as part of their work.
Quantity surveying can be a fulfilling career if you have the following traits:
Detail-oriented and meticulous

,

to calculate and manage the cost of building materials or resources.

Good interpersonal skills

to work with people from various backgrounds.

You enjoy helping people

. Construction projects can have a practical impact on communities by improving their living spaces, transportation, safety and access to resources such as the Internet.
Fields in Quantity Surveying
There are a variety of specialisations related to the quantity surveying industry. Here are some specialisations:
Construction Management – Construction managers focus on overseeing and managing construction projects to ensure they are completed on time and within budget.
Urban Planning – Urban planners help communities manage their land and resources to develop their urban environment and improve life in their communities.
What Does Your Pathway Look Like?
Most quantity surveying degrees can take 3 – 3.5 years to complete.
The total years spent in higher education may vary depending on your Foundation or Pre-University course.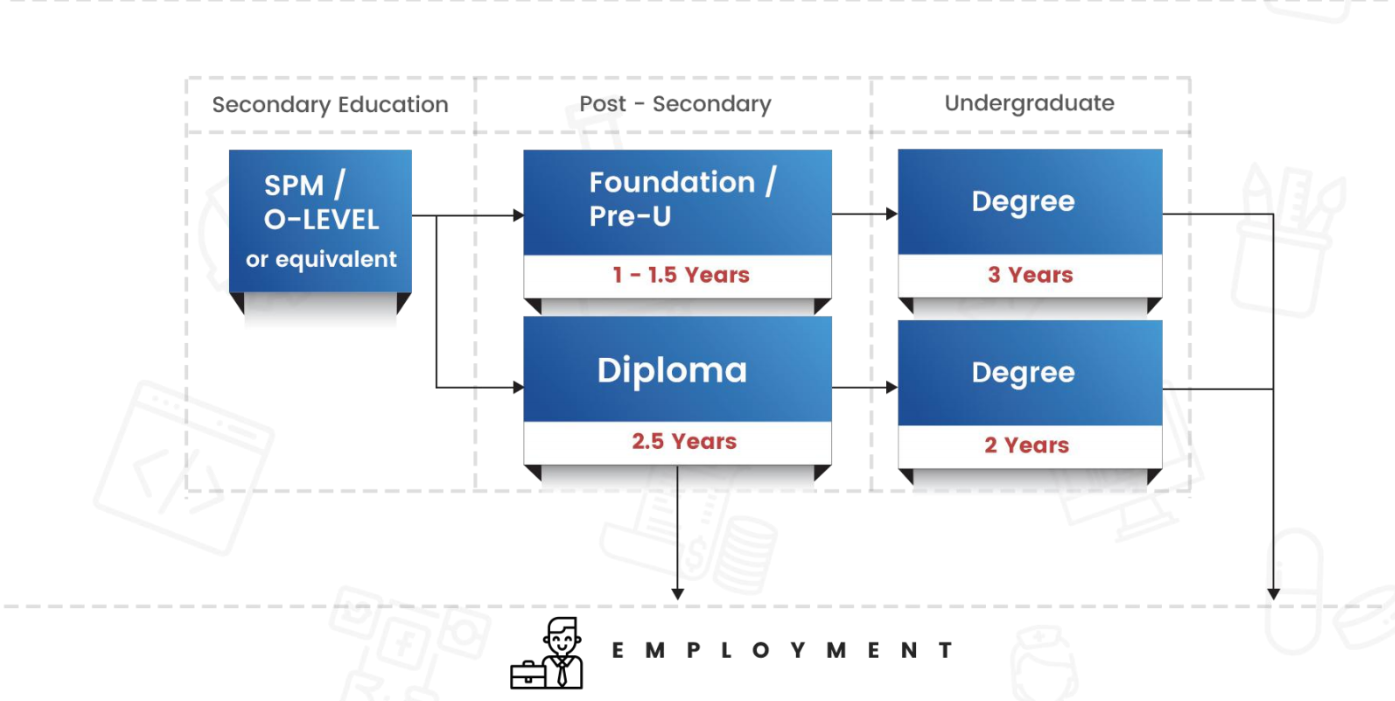 Note:
Quantity surveyors need to register with the Board of Quantity Surveyors Malaysia (BQSM) to take on more important surveying projects and advance their careers.
Only degree graduates are allowed to register for membership.
They are also required to have 2 years of work experience under a BQSM registered employer and pass an assessment to become a fully registered member.
Minimum Requirements for a Quantity Surveying Degree
Here are the general requirements to pursue a quantity surveying degree.
STPM: 3Cs/2.00 CGPA

A-level: 3Es

Canadian Pre-U: Average of 65% in 6 subjects

AUSMAT/SACEi: ATAR 70

Foundation: 2.50CGPA
For quantity surveying students, C in SPM Mathematics is an important prerequisite for their degree course.
Entry requirements may vary across different universities. Use Pathway Match to check your eligibility for your chosen university.
Which Private Universities Offer Quantity Surveying Courses?
Taylor's University
Available courses:
Estimated tuition fees per year:
INTI International University & Colleges
Available courses:
Estimated tuition fees per year:
RM19,000 (Degree)

RM16,000 (Diploma)
SEGi University & Colleges
Available courses:
Estimated tuition fees per year:
UCSI University & Colleges
Available courses:
Estimated tuition fees per year: