Table of Contents
The Canadian International Matriculation Programme (CIMP), formerly known as Canadian Pre-University (CPU), is one of the many pre-university pathways. You can choose it as a bridge to a degree after you have completed your SPM or IGCSE.
While it is not as popular as A-Level, SACE, or AUSMAT, this Canadian pre-university receives global recognition too. Thus, it is suitable for those who are thinking about studying abroad.
If you want more information on CIMP or CPU, then hop on the bandwagon!
What is CIMP/CPU?
CIMP and CPU are year 12 secondary school curricula. They contain requirements set by the Ontario Ministry of Education in Canada.
Students receive the Ontario Secondary School Diploma when they complete the programme. This qualification will take them to many places. You can study at universities in Canada and around the world!
Plus, it is also accepted by local private universities.
What is the Duration of the Programme?
The Canadian International Matriculation Programme runs between 12 to 15 months. It is a similar length to many pre-university and matriculation programmes. These include those offered by universities and colleges in Malaysia.
For example, In Malaysia, Sunway College offers a 12-month course. Intakes are usually in January, May, July, and September. (Be sure to mark them down on your calendar!)
What are the Minimum Entry Requirements?
To enrol in a CIMP or CPU course, you will need to have a pass in SPM, IGCSE, or equivalent with a minimum of 5 credits.
Why Should You Choose It?
Universities from all over the world welcome the programme as an education ticket. Upon completion, you will be able to pursue a further study at
Canada,
Australia,
New Zealand,
Malaysia,
The US, and
The UK!
Unlike the Malaysian education system, its curriculum focuses more on the application of knowledge, skills and attitude. As part of the experience, it also requires you to cultivate your soft skills. Critical thinking, innovative skills, creativity, communication, and teamwork will become part of the class agenda.
What that means is that with the Canadian programme, you will develop and enhance essential skills. The goal is to get you job-ready and increase your potential employability.
Moreover, the programme offers more than 20 subjects! With the jaw-dropping variety, you will have the knowledge to pursue most of the degree courses.
Tip:
When you choose your subjects, try thinking about your future degree course. From there, pick the necessary subjects that best fit your preferences.
What Subjects Should You Take?
According to our survey of SPM students in 2021, the 3 most popular fields of study are
Medicine and Allied Health Science,
Business,
Accounting and Finance.
Yet, you do not have to immediately choose them. After all, finding the right subjects comes first for a smoother transition into a degree.
In Canadian programmes, you must complete several subjects in one semester before progressing to other subjects later on.
On average, you will take between 2 to 3 subjects each semester and some students do take more than that.
If you are considering a science-based degree, make sure you choose science subjects during your studies. You can still take an arts degree course with science subjects, but not the other way around.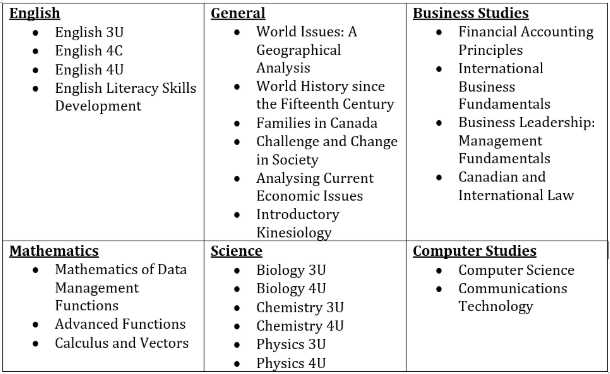 Or, you could even mould your curriculum to your field of interest. Check out these recommended subjects for popular courses:
Medicine: Biology, Chemistry and Mathematics of Data Management
Engineering: Mathematics of Data Management, Advanced Functions, Calculus & Vectors, Physics, Chemistry
Accounting & Finance: Mathematics of Data Management
Computer Science & IT: Mathematics of Data Management, Advanced Functions
Meanwhile, here is a list of subjects that Sunway College prepared for its CIMP course.
What is the English Requirement?
Do you need an English skill test for this pre-university? Yes. You must sit for the English Placement Test to determine your spot in the CIMP English programme.
Should you fail to meet their minimum English literacy requirement, you need to complete a semester in the Intensive English Programme.
How Are Students Graded?
Your grades will be a combination of continuous assessment (70%) and exams (30%). The continuous assessment involves tests, assignments, and daily work. In the exams portion, the culminated activity could also play a role in the 30%.
The good news is, gone are your days of depending on the final exam for your grade! Instead, your mentors will assess your participation in the teaching and learning process during the course.
At the end of your course, your final grade will be an average percentage across all 6 subjects taken. They will contribute to the total score of 100%.
To graduate, students must successfully complete the following:
6 pre-university courses including the CIMP English Programme.
An external literacy test (OSSLT) administered by the Ontario Ministry of Education.
10 hours of approved community service (yes, you will gain social experiences in this course as well)
How Much Does This Course Cost?
Currently, only Sunway College offers this programme at its campus in Bandar Sunway.
The tuition fee for Sunway College's CIMP course is RM37,700 and is subject to change. So, do make sure you speak with our counsellors to get the latest information.
Ready to apply for the Canadian International Matriculation Programme? Let our counsellors guide you to the most suitable course and university today!