Table of Contents
If there is one word to describe 2021, that would be "Change". From lifestyles to a pathway after SPM, the entire world has turned upside down. While adapting to the "New Norm" at school, students also combat many unknowns. Yet, they still opt to further their education.
Without physical contact with the outside world, they relied on the Internet to stay updated. In fact, many students went online to forage for university and course information. According to Pathway Match, searches outside of the Klang Valley outnumbered those within the area!
To learn more about the current generation of students, Uni Enrol conducted a survey to find out how SPM students select what to study. Here is..
What We Found was
SPM students who participated in this segment based their studies on
The University's Ranking
The Commonly Chosen Field and Courses
On top of that, they also qualified for financial assistance!
SPM Students Value University Ranking
When asked, we also found that many put university rankings above budget! Surprise, surprise. To many SPM leavers, a university's reputation determines its academic quality.
For example, if a university sits high on the QS Ranking, it means that that institution has great qualities. These qualities can be having
experienced teachers,
a lively campus life,
highly recognised programmes,
modern facilities,
valuable student support, and much more.
Therefore, one of the first searches on their list can be about "The Top Universities" in a certain nation, field, or programme.
SPM Students Still Prefer the Common Fields of Study
When choosing a field, personal traits set the tone. Those who are adventurers may be more willing to attempt a less-known field. On the contrary, students who treasure their comfort may choose to stick to what is familiar.
In the 2021 survey, many SPM students still preferred the usual fields of study. Take a look at the diagram below.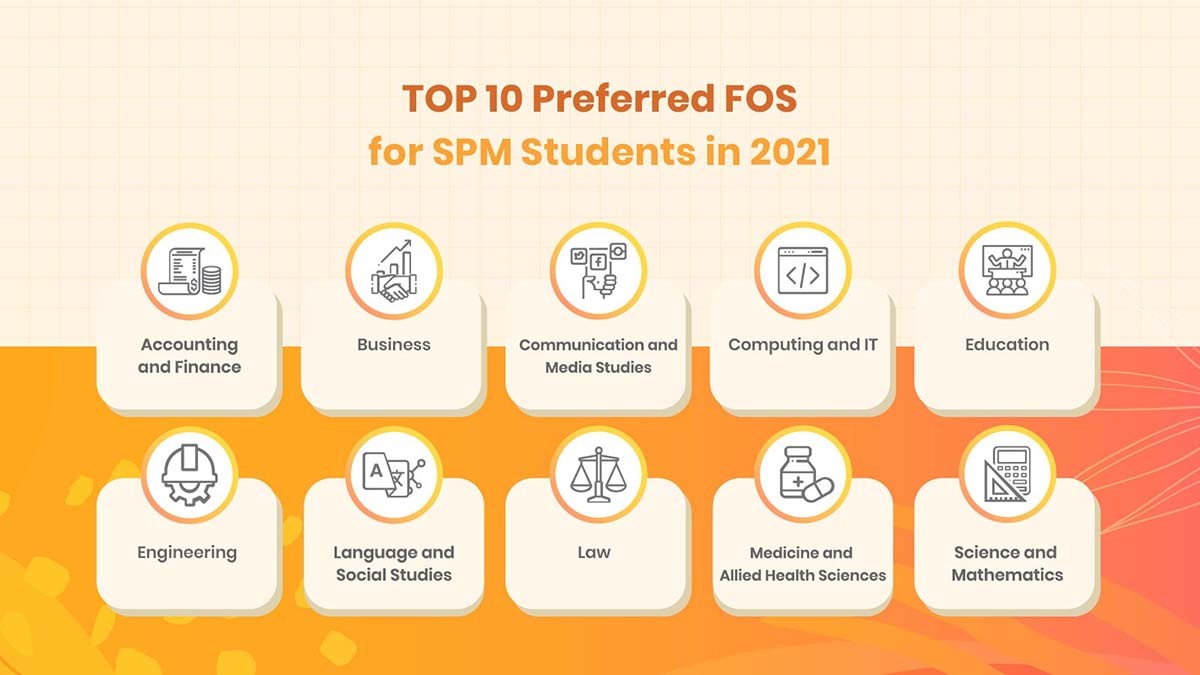 Business, Accounting, and Finance, as well as Computing and IT, are equally popular. Each field had about 2,000 students out of 31,000 opting for them!
That aside, Medicine and Allied Health Science are also in the Top 10 of our list. A total of 3,910 students have picked them as their not-so-final destination.
At the same time, one-third of the students did not choose a Field of Study. This is a regular occurrence since not all students know what they want to do after SPM. Hence, common majors are hotpicks among the fresh grads.
SPM Students Opt for More Common Majors
In Malaysia, the major study fields (based on the MOHE statistics) are
Social Sciences, Business and Law: 427,622 enrolments
Engineering, Manufacturing and Construction: 234,244 enrolments
Science, Mathematics and Computing: 150, 151 enrolments
Arts and Humanities: 108,327 enrolments
Education: 88,142 enrolments
Health and Welfare: 82,171 enrolments
Services: 70,247 enrolments
Agriculture and Veterinary: 14,328
Yet, our SPM participants voted for Accounting and Finance; Business, as well as Medicine and Allied Health Science as their preference.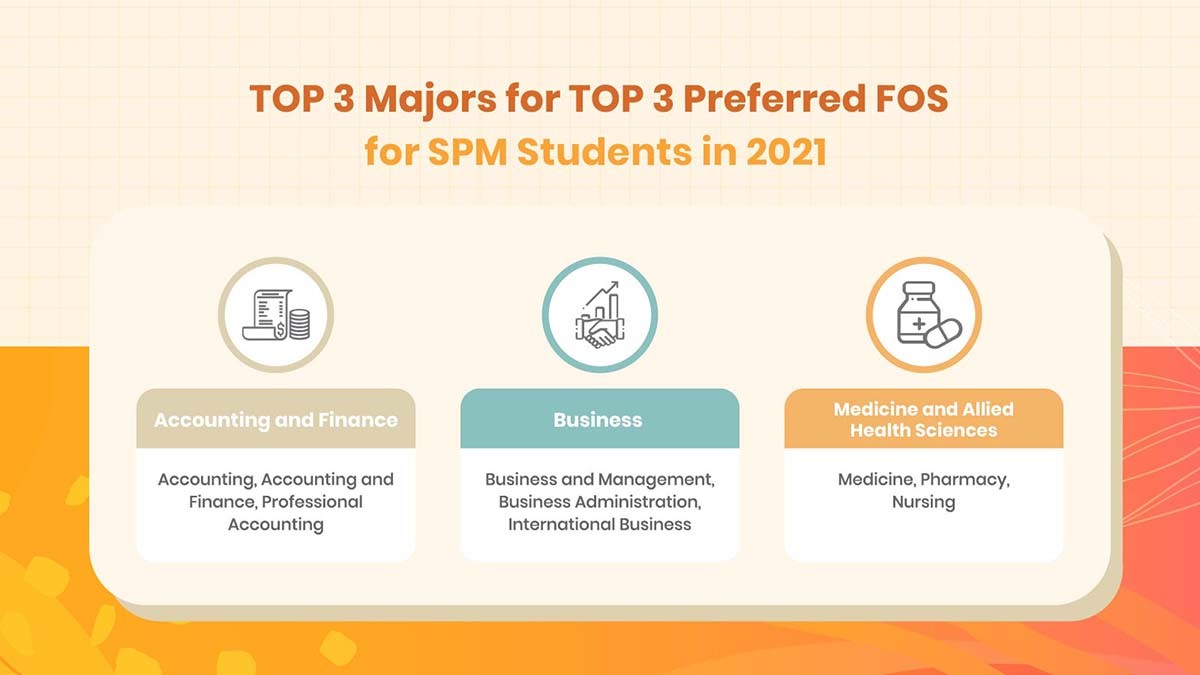 Of the majors listed here, Medicine is the most popular.
In fact, data shows that more students prefer Nursing over Professional Accounting.
Business and Management have become the top choices for students who want to study Business.
Business Administration and International Business are also some of the top majors that students seek out.
High Number of SPM Students Are Eligible for the PTPTN Loan
Financial help is just a stone's throw away, and it makes a world of difference in your education. Even after completing high school, one can already begin devising a financial plan.
According to our data, one-third of the students are eligible for a PTPTN loan.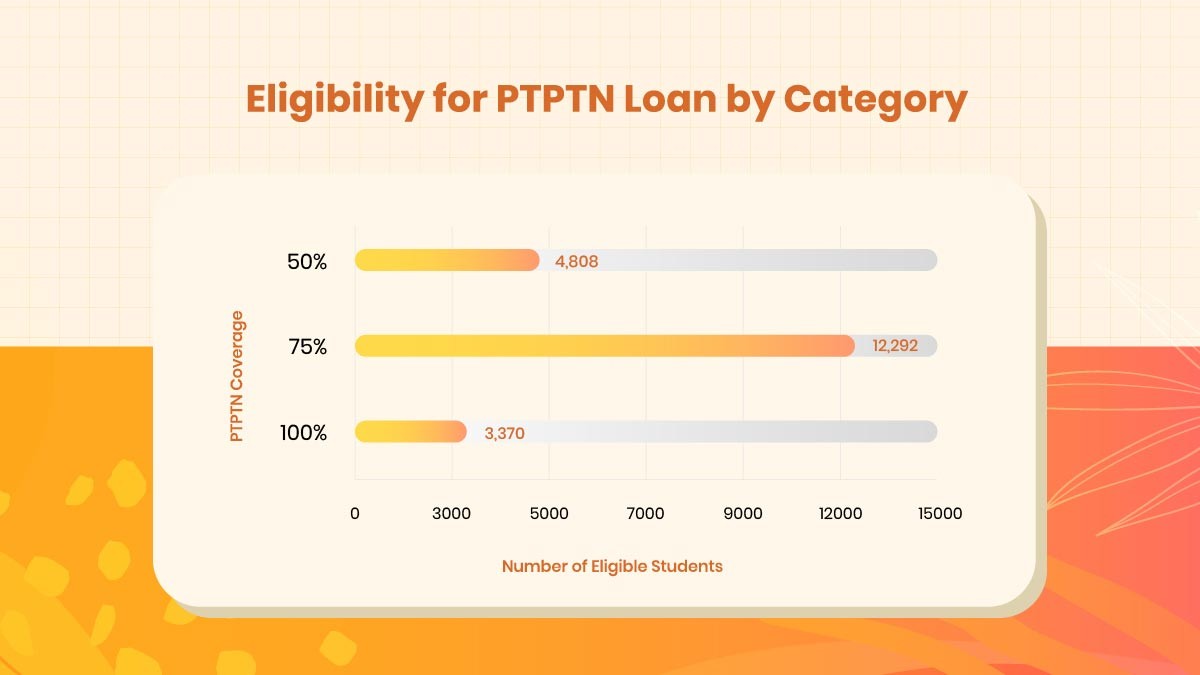 12,292 respondents qualify for the maximum 75% coverage, which is based on their parents' combined household income.
This means that students are able to fund their education, namely
RM5,100 for their foundation studies
Between RM10,000 and RM37,500 (Bachelor of Medicine, Bachelor of Surgery) per year for their degree course.
Scholarships Matched by Region
Eligibility aside, our counsellors have also looked into the amount of matched scholarships. Here, we grouped them by region, namely
The Northern Region,
The Central Region,
The Southern Region,
The East Coast Region,
Sabah, and
Sarawak.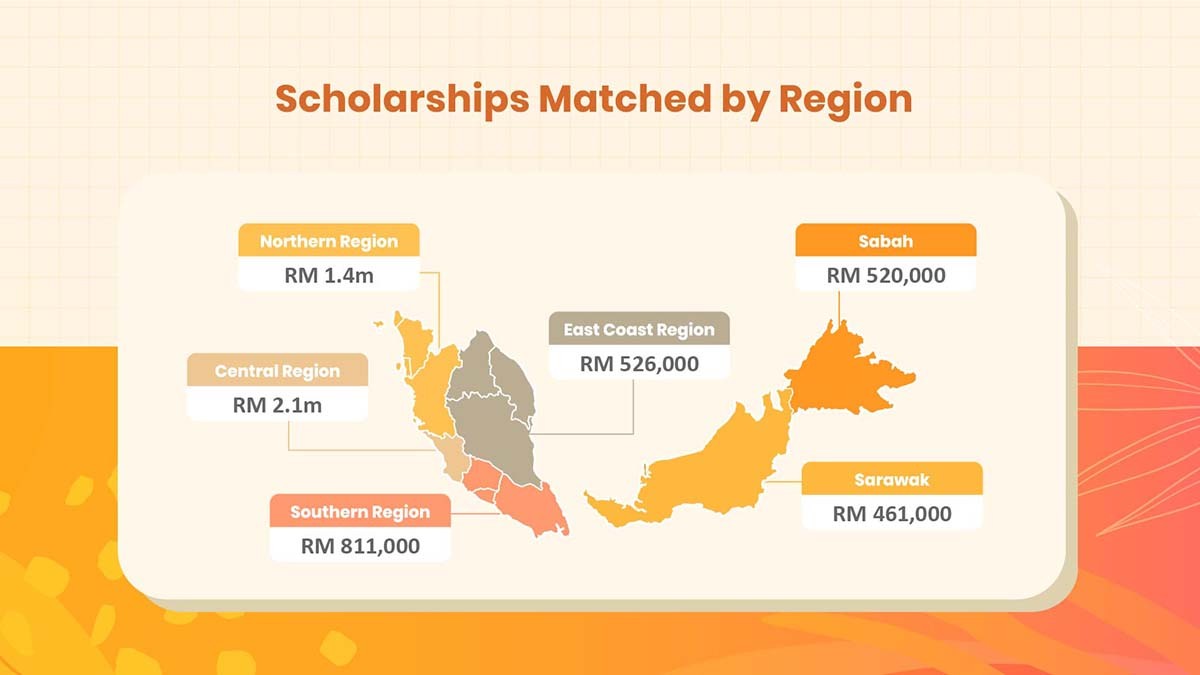 Students from the Central and Northern regions lead with the total of scholarships matched. They each carry RM2.1 million and RM1.4 million of scholarships. At the other end of the scale is the Sabah region, with RM520,000 in their pocket.
One factor that contributed to this outcome is the qualifications. Students who have met the scholarship application requirements predominantly hail from these regions.
In addition, there are also more scholarships available for students to apply for. Thus, it increases the amount matched.
Scholarships Matched by State
Last on our agenda, we also explored the amount of Matched Scholarships each state had.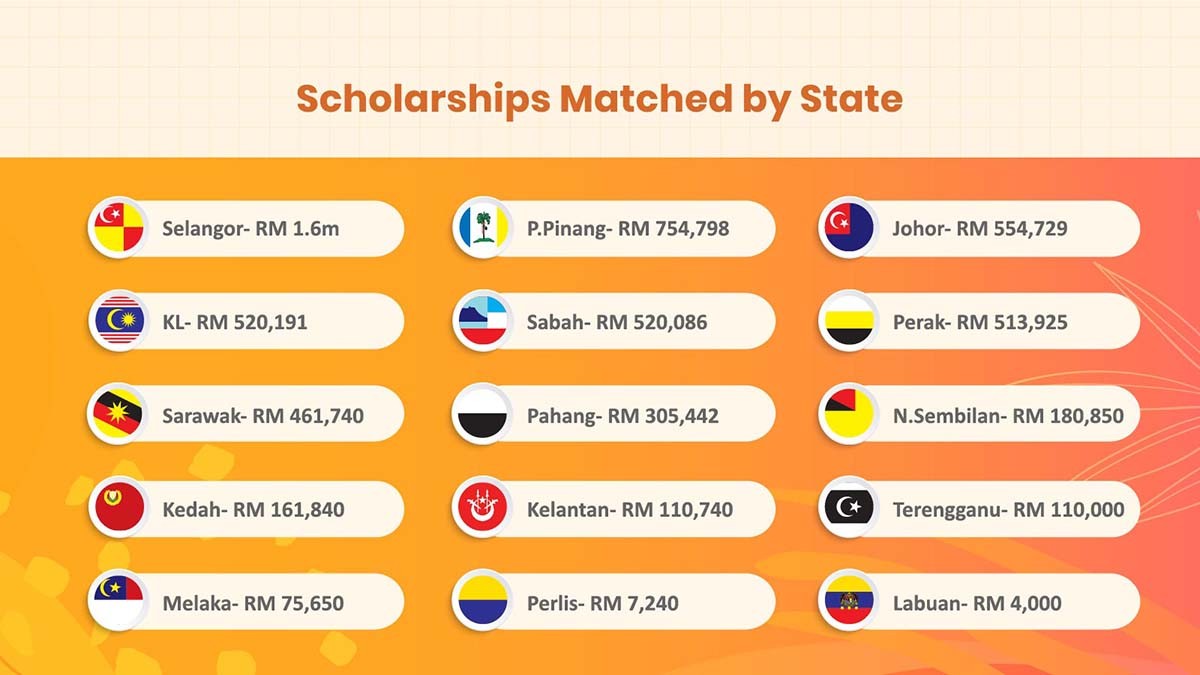 Among all the states and federal territories, Selangor tops the charts with RM1.6 million worth of matched scholarships. This is followed by Penang in a distant second with RM754,798 in scholarships matched.
Meanwhile, Wilayah Persekutuan Kuala Lumpur, Sabah, and Perak shared similar amounts. The gap between them ranged from RM513,925 and RM520,191.
To date, the highest amount of scholarship awarded to a student was RM130,000. With this scholarship, the student then entered a nursing degree.
How SPM Students Choose A Pathway After SPM | The Summary
While the pandemic has concocted a drastic change, it did not stop students from furthering their studies. They value a university's reputation and staying loyal to familiar courses.
Moreover, many SPM graduates have what it takes to lay the financial groundwork. A few taps on the keyboard can open up a world of endless possibilities. All they need to do is start strategising!
Hence, Uni Enrol is here to lend a hand!
Uni Enrol remains one of the most popular sites for students to find an education in Malaysia. Our site contains a library of information, including the details of
More than 80 universities,
400 types of scholarships and
2,000 courses.
Through this platform, students can make a comparison before submitting their application.
After completing the initial questionnaire, each student will receive a free personalised report. Inside, a list of university and course options graces the screen. And, they are based on the students' compatibility.
What's more, our professional counsellors will walk them through the application. Yes, from top to bottom!